This post may contain affiliate links.
If you're looking for a more affordable way to camp in your RV travels, you may want to consider the new, more budget-friendly program called Thousand Trails Escape Membership. In this post, we will explain how it compares to their other membership offerings, and who the Escape Membership is ideal for. But if you're not already familiar with Thousand Trails, here's a quick overview.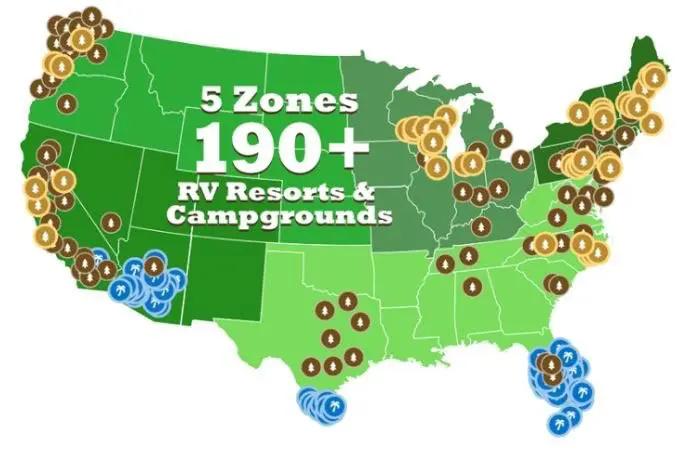 Thousand Trails: A Quick Overview
Over the years, our Thousand Trails camping membership has been our primary tool for saving money on campground stays. We have written a TON about Thousand Trails memberships since we first joined in 2014. You'll find our many in-depth articles rounded up here. But let's give you a quick high-level overview here to get you started.
Thousand Trails is a network of about 80 campgrounds divided across five zones/regions in North America. You can stay in any of the campgrounds within the region covered by your membership for no nightly fee. So, once you buy a membership, the more often you stay in a Thousand Trails park, the lower your average nightly camping cost gets. 
There are multiple levels of memberships with various benefits of the length of time you can stay in the campground per visit, the length of reservation booking windows, cabin rental discounts, and much more.
If you add the optional Trails Collection upgrade to your membership, you can access close to 200 campgrounds nationwide. Most Trails Collection campgrounds also allow you to stay for no nightly fee. But a handful of premium RV parks in locations like the Florida Keys and near Monterey, CA require a $20 per night fee. Considering campgrounds in those areas are regularly $100-$200 per night, that is still fantastic affordability.
Click here to see all of our other more detailed information about Thousand Trails memberships and campgrounds, including membership pricing here.
OK, that was a very high-level explanation. Now let's dive into the details of the new Thousand Trails Escape camping membership.
The New Thousand Trails Escape Membership
The newly released Thousand Trails Escape membership is an upgrade option from the basic Zone Camping Pass. This new membership is a one-time upgrade fee, providing multiple advantages over the base membership. The three main benefits of the Escape membership are a longer reservation booking window, frozen membership dues, and a cabin stay rebate. Let's explain those benefits in more detail.
Escape membership's longer reservation period
As you may already know, the regular Zone camping pass allows you to stay up to 14 days at a time before needing to spend seven days out of the system. Zone Camping Passes include one of the five regions/zones across the country. But you can add additional zones/regions for an extra fee. Reservations for campground bookings can be made up to 60 days in advance. 
The new Thousand Trails Escape membership has most of the same limitations as the zone pass but extends the reservation window from 60 days to 90 days. This is very important because it gives you a significant advantage in getting reservations when compared to regular Zone camping pass members.
One of the most common concerns we hear from Zone pass members is their difficulty in getting reservations. This is partly because the other upgraded memberships have 120 to 180-day reservation windows.
By extending your booking window from 60 to 90 days you will at least be able to have a 30-day head start on anybody with a standard Zone Camping pass membership.
All Thousand Trails memberships include annual dues. Zone pass membership costs and dues go up every year. We have seen the cost of Zone passes rise from $545 to $670 in the last nine years. Like other upgrade memberships, the new Escape membership will freeze those annual dues after you reach age 62. It is a nice benefit to know you will avoid increasing prices on your dues.
Another popular benefit of Thousand Trails upgraded memberships are discounts on stays in their cabins. So the new Thousand Trails Escape membership offers a one-week cabin stay rebate. Whether you need to stay in a cabin because your RV is in for repair, or you just want a different experience, this rebate can make it very affordable.
What Else You Need To Know About The New Thousand Trails Escape Membership
As mentioned above, the new Thousand Trails Escape membership is like an upgraded Zone Camping Pass. Both memberships allow you to build the membership from one to four zones/regions. Technically, the Zone pass allows you to add all five zones, but we don't recommend that. If you want nationwide access, there are better options. 
Also, like a Zone Camping Pass, the Escape membership limits stays to a maximum of 14 nights during a stay before needing to stay out of the system for seven days. Unless you are staying four nights or less, you cannot jump from one Thousand Trails RV park to another without a gap between.
Other upgraded memberships, like Elite and Adventure, allow you to go from one RV park to another, staying up to 21 days at a time. Sometimes even with 28-day stays.
Though it is great to increase the booking window from 60 to 90 days, you will still be competing with members who have 120 and 180-day booking windows. So, while it increases your chances of getting the reservations you want, it definitely doesn't ensure you will get them.
How The Thousand Trails Escape Membership Compares To Other Upgraded Memberships
We called out a couple of these in the previous section while comparing the Escape membership to Zone Camping Passes. For example, the Escape membership has a more extended reservation booking period than Zone passes but is lower than all other upgraded memberships (except the Trails Collection). 
But the most significant difference between the Thousand Trails Escape membership upgrade and other Thousand Trails upgraded memberships is the inability to go from park to park. Nearly all other upgraded memberships (excluding Trails Collection) allow members to stay in campgrounds for up to three weeks at a time, then go straight into another Thousand Trails RV park.
This basically allows you to stay in the system for a whole season or even year-round if you choose to. If you do extended RV travel this is an absolute game changer. Even if you are not RVing for months at a time, it is still nice to be able to jump from one park to another one week at a time without needing to stay out of the system.
Another benefit of the Escape membership not mentioned previously is that you can potentially swap one zone/region for another. This means you can travel between two regions without paying for two regions. For example, spending part of the year in the Northwest and part of the year in the Southwest.
Pricing for this new membership varies depending on how many regions you include, but prices start at $2,995. The new Thousand Trails Escape membership helps bridge the price gap and membership benefits between the current entry-level Zone Camping Pass and the much more expensive Elite Basic, Elite Connections, and Adventure memberships.  
Who Is The Thousand Trails Escape Membership The Best Fit For?
When looking at the benefits and limitations of the new Escape membership, we can definitely see it filling a gap and need for Thousand Trails members. It has significant benefits over the Zone camping pass, and not everyone needs the much higher benefits of the previous upgrades. 
The new Escape membership would likely be the best fit for an RVer who mostly travels within one or two regions. This is especially true if they usually only travel for less than two weeks at a time. If you mostly travel in the same area, and rarely for more than a couple of weeks, it would be harder to justify the big jump in price for the Elite (and above) memberships. But expanding your reservation booking window by 50%, from 60 to 90 days would be a significant advantage for getting the reservations you want.
Summary And Where To Learn More
We are excited to see that Thousand Trails is continually expanding its membership offerings to help members save money on their camping fees. This new Escape membership fills a large gap between the current entry-level Zone Camping Pass and the Elite Basic membership, both in price and benefits.
If you plan on doing extended RV travel or full-time RVing, we would still strongly recommend considering an Elite Basic, Elite Connections, or Adventure membership. Or a VIP, Platinum, or other previously offered membership that can still be found on the Resale/Used market.
And, as always, we continue to recommend feeling out if Thousand Trails is a fit for you by starting with a Zone Camping pass. You need to have a Zone pass to start with to upgrade to the other memberships anyway. It is a great way to test the waters if you are not ready to invest in a higher-level membership.
Learn more from our Thousand Trails Insiders and Membership Specialists below.
Who We Recommend For Buying A Thousand Trails Memberships
Call Thousand Trails Membership Specialists Jim and Brandy Reneau at 770-622-4188 or email [email protected]
We've had a long-standing relationship with Jim and Brandy. We trust them to take great care of our RVLove community. That's why you will always get the BEST deal from Jim and Brandy when you mention RVLOVE (and even save $ in areas we can't mention here).
We guarantee Jim and Brandy will get you the best deal available – whether it's a Zone Camping Pass or a membership upgrade like the Elite Basic, Elite Connections, or the Adventure upgrade – year-round.
For USED / RESALE Thousand Trails membership upgrades, contact Kim Hoel at: [email protected] or call 800-272-0401
GOT COMMENTS OR QUESTIONS?
We would love to hear from you. Drop us a note in the comments section below.