This post may contain affiliate links.
There's been a lot of buzz about Thousand Trails' new Adventure membership upgrade. What are the benefits? How is it different from other membership options? Is it worth the investment? 
In this article, we cover all the details and answer as many questions as we can, to help you make an informed decision about whether the Adventure membership is right for you.
We'll also share exactly how you can get an exclusive RVLOVE discount on upgrades.
Prices, promotions, and availability are subject to change at any time. 
Click here for an accurate, obligation-free quote or complete quote form below
What is the Adventure Membership?
The Adventure membership is the newest, biggest and best RV camping membership available from Thousand Trails. Equity Lifestyle Properties is the parent company that owns all of the 81 Thousand Trails Campgrounds, plus more than 110 Encore RV Resorts and Destination Campgrounds, around North America. 
This new Adventure offering is the top of the RV camping membership food chain, offering the most benefits, the greatest flexibility, and with the widest range of reciprocal program benefits.
We caught up with the management team at Thousand Trails HQ to learn more and drill them with our questions. We're here to share everything there is to know about the Adventure membership with you. 
New to the world of Thousand Trails?
Before we dive in, you may already know we've written a TON about Thousand Trails over the years, in our efforts to demystify what can often be a confusing subject! But if you're new here, we suggest you also might like to get a thorough education on all things Thousand Trails by reading our other in-depth TT articles. 
We cover the Zone Camping Pass, Trails Collection, New Thousand Trails Membership Options and Pricing, Buying New vs Used, and Membership Upgrades. Plus Our Comprehensive Review of Thousand Trails After 900 nights of TT Camping – Is It Worth It in great detail. In fact, you'll find everything TT-related, including campground reviews, rounded up in one handy place, right here.
Click for obligation-free quote / best price on Thousand Trail's new Adventure membership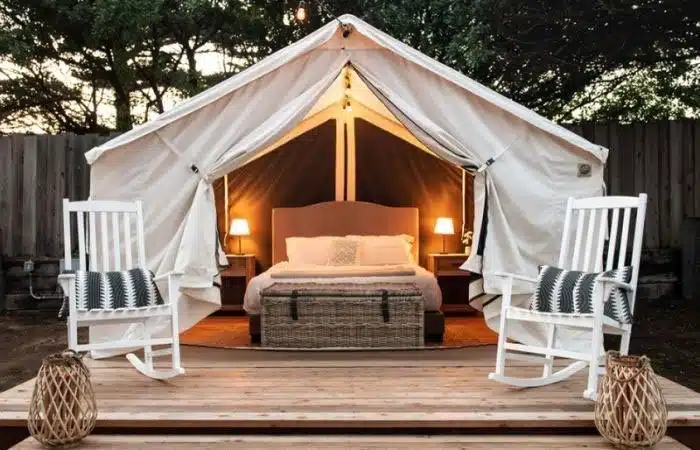 What's the big deal about the new Thousand Trails Adventure membership?
For years, we (and Thousand Trails) have been hearing feedback from people (existing members and those considering a Thousand Trails membership) on what kinds of benefits they want more of in their camping membership. Specifically, the various ways Thousand Trails could be better. 
We've been members (and fans) of Thousand Trails since we first hit the road in 2014, as it made our full time RV life so much more affordable. So we're pleased to see this new Adventure upgrade, which opens up a whole new world of RV camping experiences. 
If you've been looking for any or all of the following, you'll want to keep reading to learn more about the Adventure membership:
More freedom and flexibility in camping options.

Longer advance reservation window to secure preferred dates.

Greater access to better properties, with nicer amenities.

Camp more often, with less time out of the system.

Access to even more RV resorts and destination campgrounds with full hookups.

More of a premium camping experience.

Longer stays – during peak and off peak periods.

Access to more campgrounds nationally, including outside of the Thousand Trails network.

A greater variety of travel experiences and options.

Manage camping expenses without having to 'rough it' or move as frequently.
OK, let's dive into the specifics of what you'll get with this new membership!
Click for an obligation-free quote / best price on the Adventure Thousand Trails membership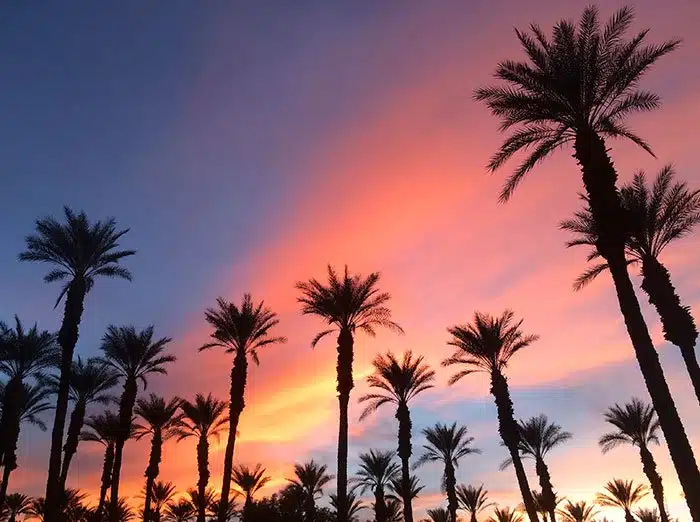 What are the benefits of the Thousand Trails Adventure membership upgrade?
We'll assume you're already somewhat familiar with Thousand Trails, how it works, and the other membership options. So let's jump right into the juicy details of what you'll get with this membership. We've bolded some of the bullets to highlight their unique value:
Unlimited nights of camping at NO nightly fee

180 day advance booking reservation window
Stay 21 days and move from park to park (with no time out of the system)

Additional Weeks – 4 x non-high use weeks per year at $29 per week PLUS 2 x high use weeks per year at $99 per week

Option to add on the Trails Collection reciprocal program for $315 a year to access 110+ additional parks
Option to add on the exclusive Trails Collection PLUS reciprocal program to access 110+ additional parks, enjoy longer stays up to 21 days, move from park to park, plus a longer reservation window of 90 days

Up to 50% discounts on Cabins, plus 5 x weekly cabin rental rebate certificates

2 years free membership to RPI Resort Connections Reciprocal Program (at $199 / year, total value $398) PLUS 6 x $500 vacation credits (value $3,000)
RVontheGo.com 20% discount on daily rate and seasonal deals (at Encore parks)
Getaway Cabins – Rent for $60 a night PLUS get a free one week stay every year for 10 years (or trade your week for an RPI condo or cruise vacation)
Annual Dues – freeze at age 62
Family benefits, with up to 8 Courtesy Cards and 4 Zone Camping Passes
The annual dues for the Adventure membership will carry over from what you are already paying with your existing membership that you would be upgrading from. (Up to $670 a year for new memberships).
As you'll see, the NEW Trails Collection PLUS option is really amped up from the original, so let's take a closer look.
Click for an obligation-free quote / best price on the Adventure Thousand Trails membership
What is the Trails Collection PLUS?
The original Trails Collection has been around for a few years now and is an optional reciprocal program of 110+ Encore properties that you can add on to any Thousand Trails membership for $370 a year. Learn more about the Trails Collection here.
The NEW and improved Trails Collection PLUS is an additional option that is ONLY available as an exclusive benefit to Adventure members. You can add this on to their Adventure membership.
Basically, the Trails Collection PLUS is an upgraded and expanded version of the standard Trails Collection add-on. And this is what we see as being as a key ingredient to making the Adventure an attractive membership option to some folks. 
So, what exactly do you get that's bigger and better in the Trails Collection PLUS?
Access to 110+ Encore RV Resorts & Destination Campgrounds (currently 113)

90 Day advance reservation window (instead of 60 days with the TC)

21 Days in / 7 days out of a park if you wish to return to the same one (instead of 14 days in / 7 days out with the original Trails Collection). The exception to this is the two Florida Keys properties – Sunshine Key and Fiesta Key – which require 28 days out in between returns to the same park 

Park to Park Access between Encore Parks (instead of NO park to park with Trails Collection)

Cost is $670 per year on top of annual dues (standard Trails Collection is $370 per year)

No nightly fee for most properties, however a small number of premium Encore properties (around 10) charge $20 per night (eg. in the Florida Keys).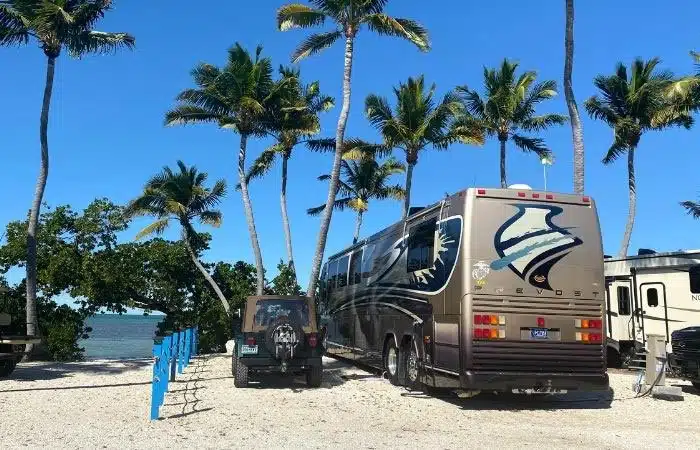 A closer look at the benefits of Trails Collection PLUS
Here are the benefits that really start making the Adventure membership more flexible and exciting, thanks to the new (and optional) Trails Collection PLUS reciprocal program:
You can reserve your stays a full 3 months in advance. That's an additional 30 days earlier than the Trails Collection. Which makes it much easier to travel the country and secure reservations at premium locations for the dates you want. 

You can stay for up to 3 weeks at a time, instead of the usual 2 weeks. This applies to any Trails Collection (Encore) property. 

Instead of having to stay OUT of Trails Collection (Encore) parks for 7 days before your next reservation, you can immediately move straight to another Encore / Trails Collection park with NO time out of the camping network! However, if you want to have a second stay at the same property, you must stay out of that park for 7 days (28 days for Sunshine Key and Fiesta Key). This is a huge advantage for those who like to bounce between Thousand Trails (TT) and Trails Collection (TC) campgrounds to maximize the use of their membership and cost savings. It is especially useful if you're staying in a region for an extended period of time. For example: if you like to snowbird down south in the winter, or stay in popular coastal locations in the summer.
A game changer
All this allows you to travel far and wide, and plan your travels with more certainty and confidence. Adding the Trails Collection PLUS to an Adventure membership, expands your camping options so much more? We can see this add-on alone could be a game changer for many who have been unable to secure their preferred camping reservations when and where they wanted. And who plan to travel to the regions of the country where Trails Collection parks are present, of course.
Click for an obligation-free quote / best price on the Adventure Thousand Trails membership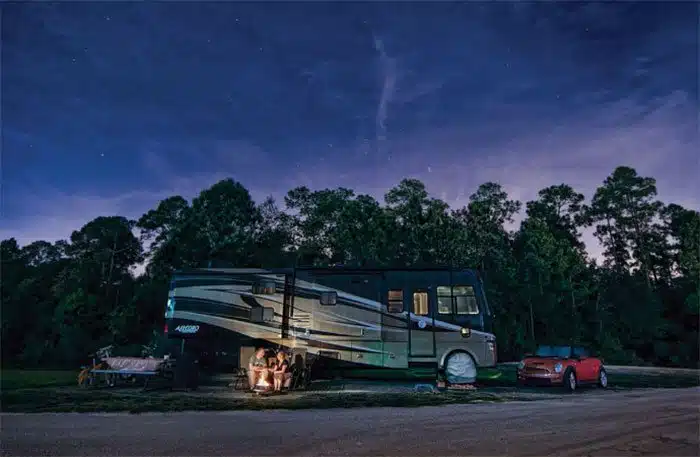 Our campsite at Thousand Trails, Orlando, Florida. Photo credit: Jerome Braga
What about the RPI bonus with Adventure Memberships?
Resort Parks International – also known as RPI – is another reciprocal program available to Thousand Trails members with an upgraded membership (not Zone Camping Pass holders). The RPI network has hundreds of RV parks and campgrounds that you can stay at from $10 a night. Plus cabins and condos all around North America, to help fill in the gaps where Thousand Trails / Encore / Trails Collection don't have much (or any) presence.
With the Thousand Trails Adventure membership upgrade, you'll get your first 2 years membership to RPI Resort Connections for free (valued at $199 a year, for a total of $398).
RPI Resort Connections also allows you to expand your travel options by trading your free cabin week for a condominium week or a cabin at another resort, or even a cruise. So those cabin weeks don't have to go to waste, if you don't use them.
Even if you mostly prefer travel by RV, you just might like to mix up your travels every now and then with a different kind of experience. For example: you may choose to visit an area that doesn't have an RV park and decide to stay in a condo or cabin instead. Or if your RV needs to go in for repair, this expands your options for places to stay. Instead of hanging around the RV repair shop, use your free week to take a vacation!
See the map below to see the entire network of campgrounds available with Thousand Trails, Trails Collection and RPI – across North America. 
Then, let's take a look at the pros and cons.
North America camping locations for Thousand Trails, Trails Collection (Encore) and RPI
Pros and Cons of Thousand Trails Adventure Membership Upgrade
In our opinion, as mentioned above, one of the most exciting things about the Adventure membership is the exclusive Trails Collection PLUS add-on. While optional, it offers so much more freedom and access to longer stays at premium properties. To us, it's well worth the $670 per year. That is, IF you travel to regions where they have locations. But even if you only stayed at a handful of Encore parks in select areas, this could represent good value for you.
Plus, the RPI Resort Connections reciprocal program is automatically included (for free) for the first 2 years. So this really expands your travel options in terms of both travel style and geography.
So let's now look at the pros and cons of the whole package with all the bells & whistles, because that's really what we think the majority of people would go for.
Adventure + Trails Collection PLUS + RPI Resort Connections
Expanded membership with access to more than 190 parks nationally (Thousand Trails and Trails Collection) 

Longer reservation windows of 180 days for Thousand Trails, 90 days for Trails Collection PLUS

Stay longer, up to 21 days at 110+ Trails Collection properties, plus Thousand Trails parks

Ability to move from park to park within the Trails Collection / Encore network o parks, with no 7 days out (unless you want to return to the same park)

Increased likelihood of securing preferred dates at popular parks and peak times

Ability to extend your Thousand Trails campground stays by 7-days (four times during off peak @ $29, and two times during peak seasons @ $99)

Access to hundreds more campgrounds around North America through RPI

Get $3,000 in travel credits for condo/cruise vacations ($500 / year for 6 years)

Stack your Cabin stays and Getaway weeks on top of what you already have with your current Thousand Trails membership

Increased access to premium RV-style camping and accommodations

Ability to swap Getaway cabin weeks for condo or cruise vacations (via RPI)

Family benefits, with up to 8 Courtesy Cards and 4 Zone Camping Passes

Ability to maximize savings on camping fees by reducing stays outside of network

Annual dues freeze at age 62

Enjoy nationwide travels at a slower, more relaxing travel pace

Can finance with 10% down and monthly payments

Membership activates immediately, so you can start booking right away.
If your current membership has benefits you really like, but they aren't also part of the Adventure membership upgrade, you will lose them (superseded by Adventure benefits)

You can only "Will" your Adventure membership to one beneficiary (instead of 8)

Being a premium product, it has a higher investment cost (It can be financed, with interest. But the bigger your down payment, the lower your interest rate will be)
Click for an obligation-free quote / best price on the Adventure Thousand Trails membership
What happened to the Ultimate Odyssey?
After many, many months of rumors about the Ultimate Odyssey going away, this membership option has finally been retired. It has been replaced by the Adventure membership upgrade.
That means the 28 day stay option that was available with the Ultimate Odyssey which appealed to slow travelers is no longer an option (year round). That said, you CAN still enjoy many extended RV camping stays with the Adventure program, by making multiple 3 and 4 weeks-long reservations throughout the year. See how you can do that in the section below.
If, after weighing everything up, you still prefer the Ultimate Odyssey membership, know that you can now only buy this on the used market as a resale membership. 
Maximize longer stays with Adventure Memberships
Stay up to 21 days and move park to park within Thousand Trails (standard)

You can extend your stays to 28 days instead of 21 days four (4) times a year with 7-day extensions during OFF PEAK times @ $29 / week

Extend your stays to 21 days instead of 14 twice a year with 7-day extensions during PEAK times @ $99 / week

Stay up to 21 days at a time at Trails Collection / Encore parks many times a year (most have no nightly fee, but a handful of premium properties charge $20 a night)
By utilizing your extension week options during peak and off peak times, you can book four x 4-week stays (off peak) and two 3-week stays (peak) over 22 weeks, which is close to half the year. And the rest of the year you can do 10 x 3 week stays at either Thousand Trails or Trails Collection properties. Thus, you could still 'travel slow' by keeping your RV moves to other locations down to as low as 16 stays during an entire year. 
Click for an obligation-free quote / best price on the Adventure Thousand Trails membership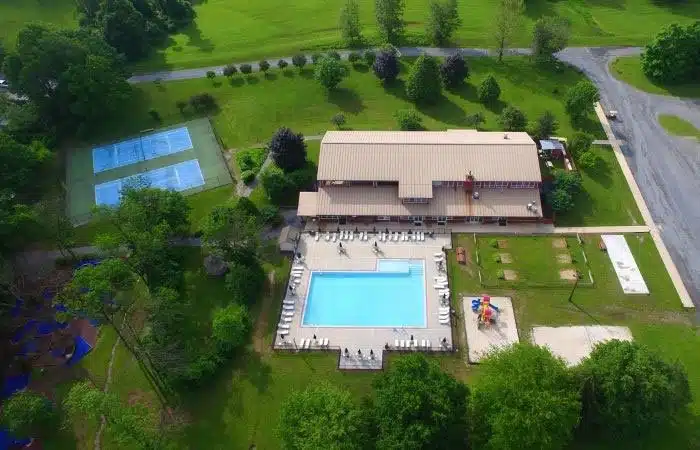 Aerial view of the pool and sporting courts at Thousand Trails, Hershey, PA
Who is the Adventure membership best suited for?
We believe you will find the Adventure membership most attractive if you:
RV camp regularly – as a full timer, seasonal / snowbird RVer, or extended traveler.

Like

 taking regular vacations every year – by RV, cabins, cabins or cruise.
Have had concerns or challenges getting advance reservations and want a longer booking window that will (virtually) guarantee your preferred dates.

Prefer longer stays of 21 or 28 days, multiple times a year.

Want even more access to the premium Encore / Trails Collection properties.

Like the ability to move from park to park within the Encore / Trails Collection properties, without having to spend 7 days out of the network.

Plan to spend a lot of time in popular locations like Florida, California Arizona, or Texas in winter – or coastal areas like Oregon, California and Maine in summer.

Enjoy variety of travel styles with cabins, condos or cruise vacations.

Value having backup accommodation options when you are without your RV.

Want to make the most of your camping membership investment by maximizing your usage, saving money by containing costs, and reducing unexpected surprises.

Like the idea of minimal monthly camping fees or 

a fixed monthly payment.
What does the Adventure membership upgrade cost?
As you may already know, Thousand Trails can be somewhat confusing when it comes to pricing.
Here's what you need to know:
Thousand Trails does not make their membership upgrade costs public. So it's tricky to provide an exact answer on what you will actually end up paying.

Several variables can affect pricing, including special promotions, and even which specific membership/contract you are upgrading from (there are literally thousands of different contracts out there).

You can finance your membership with no credit check, 10% down and monthly payments (with interest).

 If you eventually decide to stop traveling and no longer want or need your membership, you can re-sell your membership (with benefits intact) to recoup part of your investment.
Right now, the only way to get a truly accurate price on what it would cost YOU to upgrade from your current membership to the new Adventure, is to speak to a dedicated Membership Specialist.
Click for an obligation-free quote / best price on Thousand Trails Adventure membership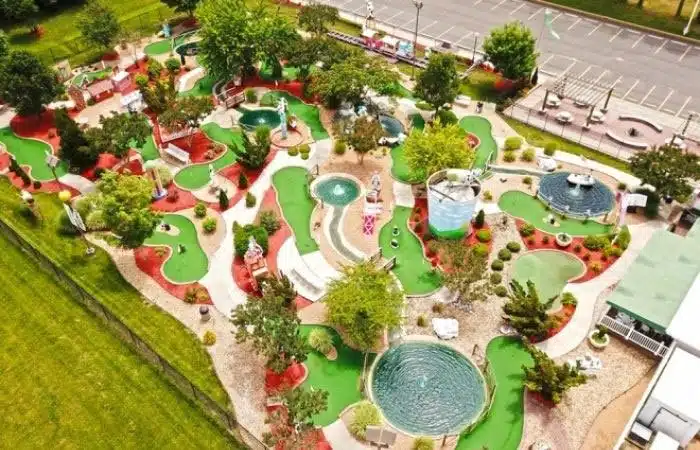 Aerial view of Bethpage Camp-Resort, VA amenities (Trails Collection). Source: RVonthego.com
How to get the Thousand Trails Adventure Membership Upgrade
As with all of Thousand Trail's other membership upgrades, you first need to be a Thousand Trails member to step up to the Adventure – a Zone Camping Pass, Elite Basic, Elite Connections, or Ultimate Odyssey membership. 
Don't worry if you are not yet a Thousand Trails member. Our favorite Thousand Trails Membership Specialists (see below) can personally answer your questions, sign you up with a Zone Camping Pass (and get you the best price). Then set you up with your new Adventure membership. 
Even if you have one of the older legacy Thousand Trails memberships – VIP, Alliance, Platinum, Platinum Plus etc – you can also upgrade to the new Adventure. It doesn't matter if you inherited your membership, purchased it new many years ago, or bought it used (as a resale).
It does not cost you anything to get a quote on the Adventure upgrade. That's always the best way to weigh up if it is right for you and worth the price difference.
Here is who we personally recommend:
Contact: Joanna and Pat Parizo
Call: 631-921-1674/352-396-6835
Email:

[email protected]

Let them know you are part of the RVLOVE community,

and that you read this article. You will get the very best promotional discount available (not published), the overall best price, and excellent service. 
We have known them for years, and we trust them. They are very knowledgeable, patient, and helpful and can answer any other questions you may have.
How to get the best deal on the Adventure membership upgrade?
Again, we recommend you complete the form to get a quote with "best price available" direct from our trusted contacts at Thousand Trails mentioned above. Even if now isn't the right time for you to buy, they can add you to their "Specials Hotlist" and let you know when the next sales and promotional offer comes up.
Click for an obligation-free quote / best deal on the Adventure Thousand Trails membership
Leaving Thousand Trails Rondout Valley, NY in 2015
Is the Thousand Trails Adventure Membership Upgrade Worth it?
Based on our 6+ years of full time RVing experience, utilizing our Thousand Trails membership extensively during that time, we would say YES! It will be worth it. The disclaimer being, as long as it meets your travel style and needs and you USE it!
We first started out with a Zone Camping Pass, upgraded to Elite, then added the Trails Collection. Since 2014, we have spent 900+ nights within the Thousand Trails camping network and it has saved us thousands of dollars each year. We can see how the new Adventure membership upgrade would inspire us to plan for longer stays. And take full advantage of the Trails Collection PLUS benefits, booking stays at some of their premium properties.
Ultimately, it's up to YOU to decide if the Adventure is right for you. Whether you enjoy your current Thousand Trails camping membership or you're just considering Thousand Trails and like the concept of it, but want to learn more.
If you want MORE freedom in your RV travels, with access to more (and nicer) properties, the ability to stay more longer and more often, book further in advance, and move from park to park (within Encore as well as Thousand Trails) then we believe this will likely be a very attractive membership to you – and many others.
Do the math to work out how much it could save you
Being a premium product, if you get a quote on the Adventure membership and it seems high, keep it in perspective and do the math. We always recommend taking a big picture view of your RV camping expenses over the longer term, taking into account how many years you (and your family) plan you travel and use your membership. Then calculate what you would end up spending on regular campgrounds, paying regular, retail rates! 
As a guide, RV parks typically charge $30–$60 a night (or more). Monthly rates may offer better value, but these can also range from $500–$2,000 a month (or more) especially in highly popular tourist areas. But if you have your sights set on highly popular locations – say California's Coast, the Oregon Coast, near major National Parks, and the Florida Keys – bump up your estimates. Those nightly rates can easily hit $60–$140 (with an average nightly rate of $100. We've even seen them as high as $200 a night!) Check the websites of a few campgrounds in the areas you plan to travel, to get a good feel for their rates.
When you really sit down to crunch the numbers, it's easy to see just how quickly your RV camping expenses can add up over time!
PS. We added up what we spent on RV camping fees over 6 years across all camping options here, to help you gauge what RV camping can and does cost! Nightly camping rates are increasing every year. You can also read our comprehensive 6 year review of our Thousand Trails membership (what it cost and what it saved us) here.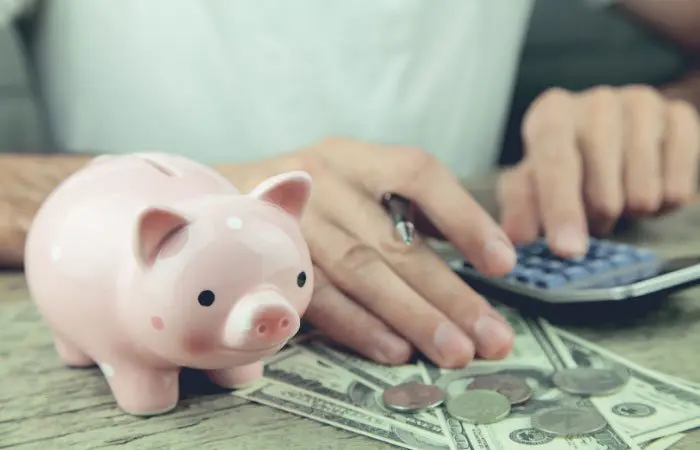 Here's a quick, yet useful exercise
Before you make any camping membership purchase:
Estimate how many nights a year you plan to use your Thousand Trails Camping Membership to camp in your RV

Multiply that number by an average campground rate, based on the areas you plan to travel. 

Then multiply that total by the number of years you think you'll be doing RV travel
Don't forget to include any additional money you might spend on other kinds of vacations or accommodations – condos, cabins, cruises – in your total estimate.
Finally, take a step back and take a realistic look at what you COULD SPEND if you don't have a camping membership. And what you COULD SAVE if you did. 
Let your own numbers give you the answer!
Final comments
Personally, based on our own experience with RV travel and how valuable Thousand Trails has been for us, we see the new Adventure membership upgrade as a really viable option for enhancing your Thousand Trails RV camping experience. Especially if (like us) you value longer and nicer stays at a wide variety of campgrounds in desirable locations around the country.
If you RV full time or do extended RV travel, and you mostly stay at campgrounds within the Thousand Trails network, you could easily save enough money to cover the cost of the membership purchase within the first year.
See if buying a Thousand Trails Adventure membership upgrade makes sense for YOU and let us know.
What do you think about the Adventure membership upgrade?
Are these membership benefits useful and appealing to you? 

Would the Adventure membership be a good fit for your travel needs? 

Is this new membership offering a game changer for you?

Was this article helpful?
Leave us a comment with your thoughts, below.
GOT QUESTIONS?
Please leave us a note below with your questions. We'll be happy to answer them here, or perhaps even follow up with another FAQ post. Happy Trails!
Nubble Lighthouse in York Maine, near Thousand Trails Moody Beach, ME
Over the years, we've found many great resources that help save us money and/or enhance our RVs and RV life. Here are some of our faves that we recommend.
If you have any questions at all about these resources and providers, please don't hesitate to ask. We're here to help.