This post may contain affiliate links.
We mixed up our two weeks at Miami Everglades RV Resort. One week we stayed in the resort and left our RV in storage while we went on a cruise. This is one of the nicest resorts we have stayed in as part of our Thousand Trails, and Trails collection memberships. The RV park was awarded the best campground in Miami back in 2010 and is still a great park today. Read on for more about our experience.
Location of Miami Everglades RV Resort
As the name implies, Miami Everglades RV Resort is located 30 miles south of Miami, and 30 miles north of Key Largo, Florida. Coral Gables is directly east, and the Everglades National Park is only 10 miles to the west. Publix grocery store and fuel stations are only about 10 minutes away. Farms and nurseries surround the RV park on all sides, which makes the resort feel more distant from town than it really is.
Roads into the area are flat and straight for RVs. But, the last couple of turns will sneak up on you if you don't have a GPS, especially at night, as it is dark in this rural farming area. This is a great place to visit in southern Florida if you want to escape the cold winters up north.
Miami Everglades RV Resort has a lot of desirable attractions in close proximity. It is less than 30 miles from both Key Largo and Miami. Coral Gables Miracle Mile, and Oceanside communities are a short drive away. The Everglades National Park is only 10 miles from here. Nature, shopping, entertainment, and almost anything you could want is less than an hour from this resort.
We made the most of the fact that Miami is a major cruise terminal and sailed away on a vacation. Miami Beaches are very popular, as is the art deco architecture. There is a lot of culture in Miami.  
One interesting area we heard about while down here was a town called Wynwood. The town is filled with beautifully painted murals. Certainly, a lot to experience in this area.
Amenities and Activities at Miami Everglades Rv Resort
Miami Everglades RV Resort has fantastic amenities. The pool area is one of the nicest we have experienced in a Thousand Trails Encore resort. It also has a beautiful sand volleyball court, and an extremely nice mini-golf area. There was a basketball half-court, pickleball, and shuffleboard courts in excellent condition. This resort also has a massive grassy playfield and open areas.
On the more practical side, there were multiple shower buildings, a laundry room, propane fill, and a small store onsite. There is also a really large Tiki hut for large get-togethers and a clubhouse for indoor events. If you need RV storage, they also offer a large storage area.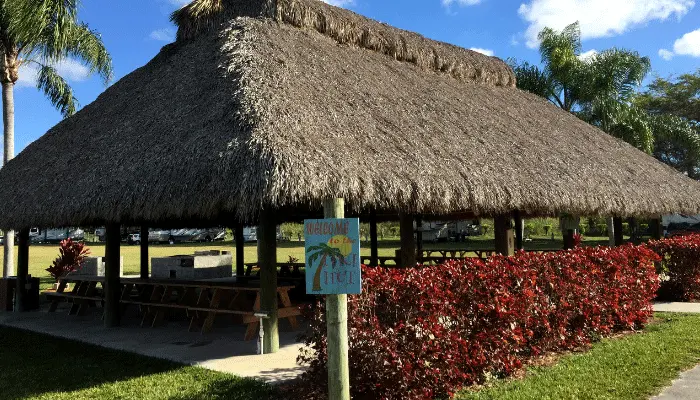 We noticed that this seemed to be a very social resort. Our perception was that there was an event nearly night.  When we mentioned that to a long-term resident, they confirmed that there usually IS something most days. Great energy and a fun group of people during our visit.
We were able to receive packages here during our stay. Catering to long-term tenants, we imagine they are used to receiving deliveries for guests.
The resort does offer wifi. We use our own data with AT&T, Verizon and T-Mobile. So we didn't try their internet. AT&T, Verizon and T-Mobile all had 2-3 bars of LTE signal without our booster, so connectivity speeds were good.
Very well stocked store at the resort
RV Sites at Miami Everglades RV Resort
The RV sites are mostly grass, but some are dirt or hard surface. Internal roads are all paved asphalt surfaces and in good condition. The check-in office has two lanes and is well within the park. Roads in between sites are not wide, so hopefully, you don't end up having two RVs meeting on a road at the same time.
Fortunately, since the majority of the visitors seem to be seasonal, there isn't as much changeover of sites as you might find in short-stay parks. Having fewer RVs driving around makes the roads seem totally fine. It also helps that most of the sites are pull-throughs, making it easier to get in and out of sites. This of course, means less time when the roads are blocked.
There are about 275 sites, and most RV sites seem to be extended stays or seasonal visitors. The resort has about 15 cabins and lodges, but nearly all sites are for RVs.  Group tenting sites and solo tenting sites are also available. Most of the RV sites are full hookups. About half being 30 amp, and the other half 50 amp power.
More detail about RV sites at Miami Everglades RV Resort
When we arrived, the regular full hook up sites were all full. They asked if we would be ok staying in a group tenting site without a sewer hook up for a night, then move into a regular site the next day. We actually loved the partial hookup site so much, that we chose to stay there all week. Fortunately, our water tanks are large enough to comfortably go a week without dumping.
Most of the regular sites are long enough for big RVs, but are not super wide. I would say they are about average for what we see in Florida RV parks. Some are larger than others, and if you can score one on the perimeter they will feel very spacious. There is a really nice paved walking and biking path that goes all the way around the park. The park is about 34 acres, so the path is a wonderful way to get in your exercise.
As mentioned above, one of our weeks here was while we left our RV in storage. We had booked a cruise out of Miami. So this was a great place for us to store our coach while we were sailing the Caribbean.  It was also a great opportunity to test our batteries since the storage is just an open area with no power.  
We were gone for seven days. It was raining when we left, and raining when we got back. Our RV was also partially shaded by a tree, and it was the heart of winter. I am sure that we had some sun while we were gone, but not much.  We have 1000 watts of solar panels, but with the weather, the season, and the shade tree, solar potential was low.
We have a residential fridge and still had a fair bit of food in it. So, we just left it on, crossed our fingers, and banked on the batteries to get us through. It was exciting to see that we still had 20% of our power capacity when we got back 8 days later. We love our system for peace of mind in situations like this. We have 6 Battle Born Lithium batteries, and Victron solar charge controller and inverter. Click here to read our post and related video about our off grid set up.
Great amenities on site

Nice location surrounded by farms and nurseries but still close to area attractions

Very well maintained park with fun and social vibe
Internal roads are a bit narrow, but still manageable

Can be hard to get a reservation here

Still need to pay $20/night even with Trails Collection upgrade (but worth it to us)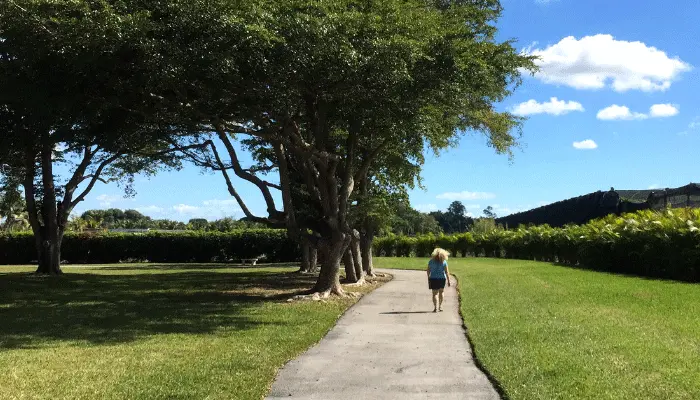 Rates at Miami Everglades RV Resort
Being a special Encore resort, this is one of the few parks within the Trails Collection that requires a $20/night fee. Most sites were seasonal or extended-stay residents. We did meet a number of folks staying here for shorter stays. But the focus is likely on long-term/destination visits. 
If you want to learn more about this RV resort, or a Thousand Trails membership, contact our recommended Membership Specialists, Joanna and Pat Parizo, who spend every winter at this location. Call them at 631-921-1674 or 352-396-6835, or email at [email protected]. Here is a picture of them below.
Miami Everglades RV Resort is a really great destination resort for a season. It is also a great getaway resort for shorter stays if you live in the area. It feels like it is far from town, but is actually very convenient to big city attractions and even the Florida Keys. It is one of the best parks we have stayed at within the Thousand Trails Encore system. Very impressed with maintenance and quality of the resort and a very good location
We visited this resort in late January / early February of 2019 for two weeks. We stayed in the park for a week, and left our RV in storage for a week. The weather during our stay was beautiful, with daytime highs in the 80s and night time lows in the 70s. We had a really nice time here and would definitely come back to visit.
Editorial Disclaimer: Opinions expressed here are the author's alone, not those of any RV park, campground, or RV resort, and have not been reviewed, approved, or otherwise endorsed by any of these entities.
GOT COMMENTS OR QUESTIONS?
We would love to hear from you. Drop us a note in the comments section below.
Looking for more RV park reviews? Hover over each image to see campground and location and click to read our review. Find ALL of our campground reviews on this page.