This post may contain affiliate links.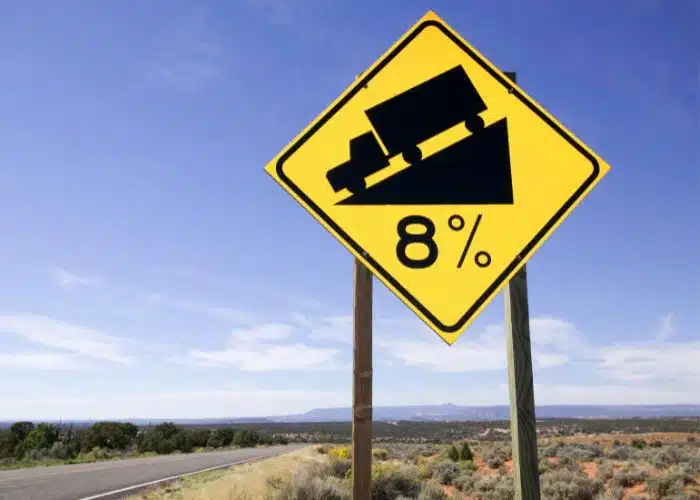 Driving an RV can be stressful, especially at altitude, when navigating steep grades, hills, and mountain passes. Whether you drive a gas-powered RV or truck, a diesel motorhome, or tow a trailer, here are nine tips for safely navigating up steep grades, and back down again, without overheating the brakes. Following this advice will help reduce wear and tear on your vehicle, keep you calm, and help ensure you arrive safely with cool brakes!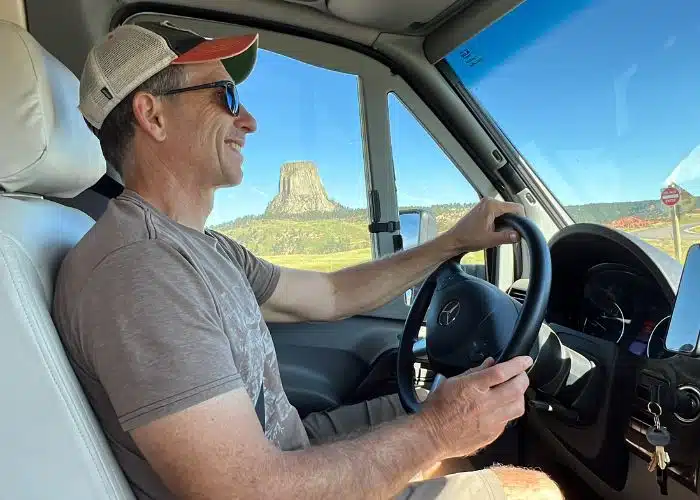 The risks of steep grades and mountains
Just east of Butte, Montana, while crossing the Continental Divide on I-90, our coach was down to just 30mph on a 6% grade while driving over the mountain pass. Our first RV was a 36′ gas Class A motorhome weighing 22,000 pounds. And we were towing our Mini Cooper Convertible mounted on a tow dolly weighing about 3,500 pounds. That's a total weight of 25,500 pounds.
A gas RV has substantially less power than a truck or diesel RV when driving up these passes. So you just have to take it slower. Plus, gas-powered coaches don't have the advanced engine braking or airbrakes of big diesel RVs. So you need to take extra care when driving down the mountain. 
You don't want to overuse and overheat your brakes. This reduces them to mush which makes them virtually unusable and substantially decreases safety, not to mention the stress and white-knuckling that goes along with it!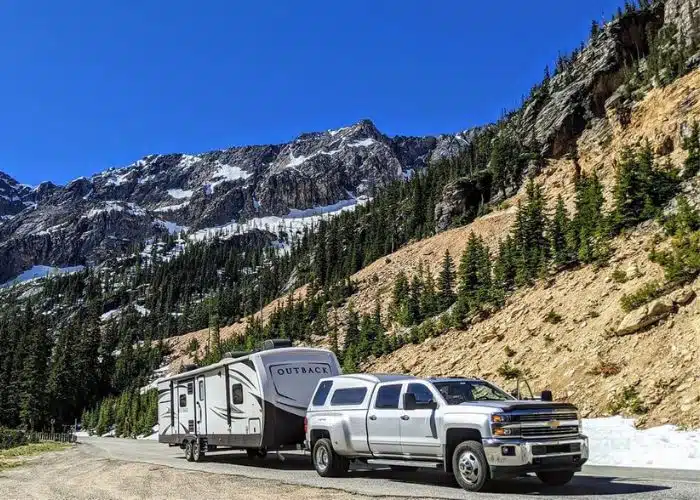 Photo Credit: Pat Knoer-Jennette
9 Tips for Driving Your RV on Steep Grades
Be Patient. Accept that you will be driving slow and other drivers will expect you to be driving slow, so just be patient.
Use Hazard Lights. Anytime you are driving, say 20-30mph below the posted speed limit, turn on your hazard lights to alert other drivers you are going extra slow, as a good safety precaution (if traveling in a state where this is allowed).
Downshift before Ascending. Before you even start going up the hill, downshift to a lower gear so you have some extra power.
Use Tow Haul Mode. Put your transmission in Tow Haul Mode (if your vehicle has it), which uses different gear shifting to keep the engine in a more optimal range. We leave our RV in Tow Haul Mode almost all the time.
Descend Slowly. When preparing to go down the mountain pass, bring your speed way down (even as low as 30mph, depending on the length and steepness of grade of the hill) before you even begin your descent and stay in Tow Haul Mode. This allows you to use more engine braking and gives you room to increase your speed safely. If you start driving down the hill at a high speed and try to come down to a lower speed, it will be a lot harder on your brakes.
Downshift before Descending. If the RV doesn't automatically downshift itself when going downhill, firmly press the brake to force the transmission to downshift. This will increase your engine speed (rpm). So the engine will be doing some of the braking for you. This reduces the amount of time you need to use your brakes.
Minimize Braking. When braking, aim to press the pedal for only about 15-20 seconds each time and allow time in between so you don't cook your brakes. The last thing you want is hot, mushy brakes when you need them!
Disconnect a Towed Car. If you're towing a vehicle behind a motorhome, consider pulling over and disconnecting. Your copilot (if you have one) can drive the tow car up or down the pass separately. The time it takes to unhook and reconnect will be offset by your ability to tackle the mountain at a more reasonable speed with your RV. Above all, it increases your safety and saves your brakes while reducing your stress.

Don't Overwork it.

There's no sense in working your RV too hard with a screaming engine or overheating the brakes. Take it nice and slow, and you'll get better longevity on your vehicle.
Stop white-knuckling it over the mountains
Remember, RVs are heavy vehicles, and you have much riding in them. So use caution, be patient, and stay safe and slow. If you're white-knuckling it, you're probably not being safe!
Driving mountain passes and steep hills are nothing to be afraid of, even in a gas-powered RV. As long as you follow these tips and take your time, you'll be able to reach your destination safely. 
Besides, there's nothing better than the expansive views from the top of a tall hill or mountain. So take your time, relax, enjoy the drive, and take in that beautiful scenery!
Want more useful resources and tips to help you plan safer RV travels?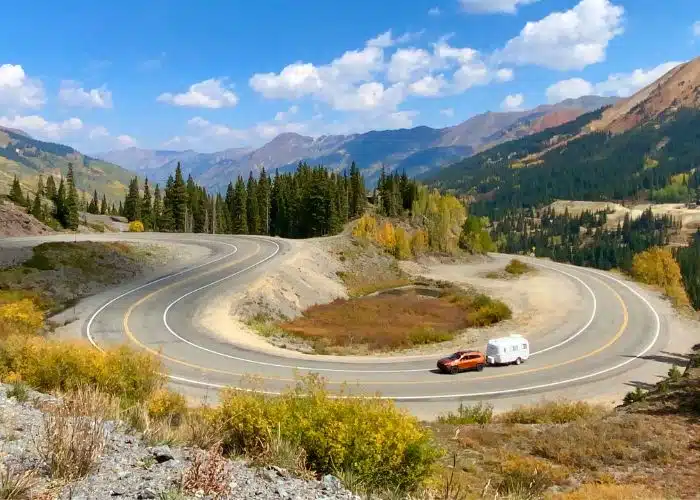 Trip Planning Tools We Use & Recommend
Over the years, we've used several resources to help us plan RV trips, navigate steep grades, and stay safe on the road. Here are six of them.
Technologies for RV trip planning 
1. RV Trip Wizard – this is our favorite online trip planning tool as it has many valuable features, including RV-safe GPS directions. It's included in the RV LIFE Pro app, and we use it to plan our trips, determine the best routes, find campgrounds, plan fuel stops, and even track our expenses. A fantastic new feature of RV Trip Wizard now shows the elevations and grades along our routes. Learn how we used this feature when planning our RV trip to California. You can view your trips and routes using the RV LIFE app and download offline maps when not in areas with cell coverage. >> TRY RV TRIP WIZARD WITH FREE 7-DAY TRIAL / SAVE 25% ON RV LIFE PRO subscriptions (includes RV Trip Wizard) when you use code RVLOVE25. Click here to start your 7-day free trial.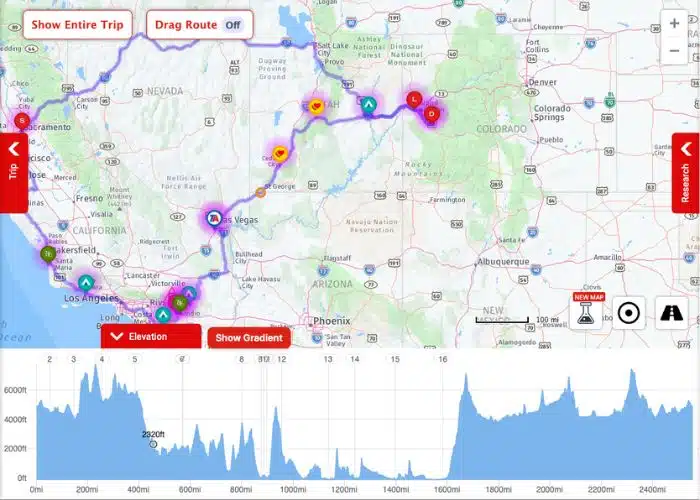 2. Garmin RV GPS – when driving a big rig, an RV-specific GPS keeps you on the most appropriate roads for your RV size. We find this to be a helpful addition alongside other tools, like RV Trip Wizard and Google / Apple Maps, on a smartphone. We have the Garmin 890 (now superseded), but the latest version is the Garmin 895 (8″ screen"). If that doesn't fit your budget, consider Garmin 780.  
Books for RV trip planning
3. Mountain Directories – these books, ebooks, and apps provide the locations and descriptions of over 700 mountain passes and steep grades in 22 states. We have both the East and West editions and find them to be invaluable resources for planning our route to safely navigate and/or avoid mountain passes and steep grades on our travels. Learn more here. 
4. Rand McNally Road Atlas – we have always carried a large-scale, print, spiral-bound edition of this road atlas for a big-picture view when planning our travels and viewing specific roads. These are packed with tons of helpful info and come in very handy when out of coverage areas. Many RVers use different colored highlighters to track roads they've driven. The 2024 road atlas is also the 100th-anniversary collector's edition.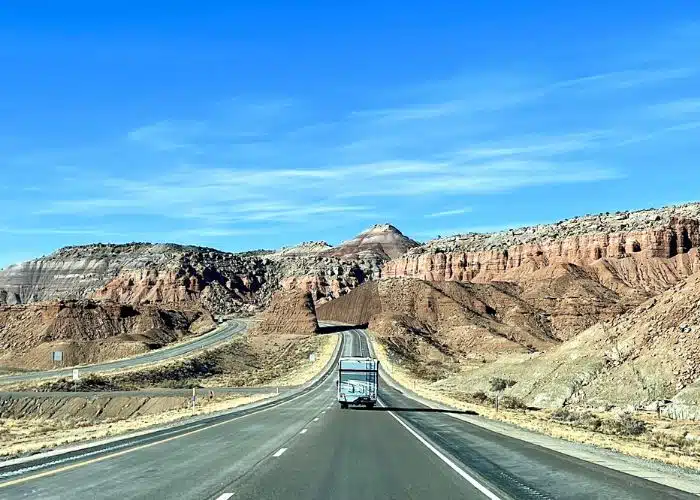 5. RV Hacks: 400+ Ways to Make Life on the Road Easier, Safer, and More Fun! – in chapter 1 of our second bestselling book, you'll find helpful tips for driving RVs and big rigs. The other five chapters are packed with handy hacks for RV repairs and maintenance; camping and campgrounds; RV living (cooking, meal tips, organization). Plus working from the road, internet, and traveling with families, kids, and pets. Buy RV Hacks here on Amazon in print, digital, or spiral bound. Find other book retailers and learn more here on the official book page.
6. Living the RV Life: Your Ultimate Guide to Life on the Road – our first book is ideal for those considering the RV life and will teach you what you need to know. In it, we cover many aspects of RV driving and systems safety, plus tips for trip planning and recommended destinations. Buy here on Amazon in print, digital, and audio. Learn more and find other book retailers where you can buy it here on the official book page.
Take your time and enjoy the ride
Finally, it really does pay to take your time, and be prepared when it comes to your RV travels. Use these tips, and invest in the right tools and resources, as you follow good, safe driving practices. You'll end up spending less time dealing with issues like repairs and breakdowns on the road, and even avoid accidents like this inside a campground! A large number of RV issues can be avoided with proper planning, and practicing the safety tips we share, which means more time for relaxing and enjoying the RV life.
GOT QUESTIONS?
We'd love to hear from you – drop us a note and share in the comments below.