This post may contain affiliate links.
Another solar eclipse is coming this fall, and there's one big event that's bringing thousands of RVers, campers, eclipse chasers, and dark sky fans to Klamath County in Oregon. EclipseFest23 is a multi-day immersive festival experience just 20 miles from Crater Lake National Park. It takes place October 10th–15th, with the annular solar eclipse happening on the morning of Saturday, October 14th. That evening, popular 90s band SMASH MOUTH headlines with a concert to perform their greatest hits like Walking on the Sun, All-Star, Can't Get Enough of You Baby, for its fanbase of all ages.
RV and tent campsites, festival, and concert tickets are now on sale, with the option to camp for 3-5 nights, conveniently at the festival field. The All-Festival Pass offers access to the concert and all of the festival activities, entertainment, plus food and beverage trucks. There are also vendors offering everything from arts and crafts to camping gear. 
Around 5,000–13,000 people are expected to attend EclipseFest23. They will converge on a 175-acre parcel of private land in Chiloquin, in Klamath County, Oregon. The location is ideally positioned in the direct path of the eclipse. The entire area is an outdoor lovers' mecca, with attractions and activities ranging from lava caves, ziplining, and fishing, to hiking, kayaking, and national parks and monuments.
It's an ideal event for RVers and campers, and already sponsors like Spot2Nite, Harvest Hosts, Open Roads, Battle Born Batteries – and media partners RVLIFE, CampgroundViews.com, and RVing New England – are on board to support the event. Of course, we Marc and Julie Bennett of RVLove, will be there, soaking up the fun, doing giveaways, and signing copies of our bestselling books, Living the RV Life and RV HACKS. Plus some of your other favorite content creators – stay tuned to find out who else will be there!
RVers watching the 2017 total solar eclipse in Oregon
What Is An Annular Solar Eclipse?
An annular solar eclipse occurs when the moon is too far away to completely block out the sun, leaving a "ring of fire" in the sky. It's a once-in-a-generation event, and the next one won't occur in the USA for another almost 30 years. This annular solar eclipse is being touted as the solar eclipse of the west. The next USA total solar eclipse happens in April 2024, and will hit more of the eastern USA. Learn more about the next two solar eclipses here.
The band of eclipse annularity is 90-miles-wide (the annular eclipse equivalent of totality for total solar eclipse) starts in the USA on the Oregon southwest coast, then makes its way west across Crater Lake, and southwestern US, Central and South America.
The excitement among eclipse chasers, astronomers, and dark sky watchers is building for this cosmic event. NASA will be attending EclipseFest23, and giving a presentation to festivalgoers.
What Is Happening At EclipseFest23?
Aside from on-site RV and tent camping, all three days of the Festival (Thursday, Friday, Saturday) will feature activities and entertainment for all ages.  
Camper check-in: Starts as early as Tuesday, October 10, 2023, for the early bird prime camping spots. General campers check in on Thursday, October 12.
Family Movie Night: Bring the family for a fun night out, watching two fantastic movies in the outdoor theater. Settle into your camp chairs with a food truck dinner and snacks, and watch the show. Sponsored by Harvest Hosts.
Festival Itinerary: Each day of the festival, the scheduler offers something for everyone. Join in to play Bingo; Activities at the Play Area; a Pie-Eating Contest; Horseshoe Tournament; Karaoke; Dance Floor; Orchestrated Star Gazing; Morning Exercise; a Kid's Costume Contest. Plus more events being added.
Eclipse Watching Party: Watch the magic of the annular solar eclipse on Saturday morning – either from your RV or on the field together. The first 5,000 people will get a souvenir set of Eclipse Watching Glasses to protect their eyes.
Concert: Smash Mouth will perform many of their popular hits on the main stage Saturday evening. And yes, dancing is encouraged!
But that's not all!
Throughout the festival, the following will also be happening every day:
Food and Drink Vendors: Over 70 food, snack, and beverage vendors will be offering a variety of local cuisine, ethnic food, and fair-type foods, and tasty treats to fuel your hunger and quench your thirst. Grab breakfast, lunch, dinner, and everything in between. All food and drink items will require tokens, available to purchase at one of the onsite token booths.
Beer Garden: Hang out with festivalgoers (age 21+) and enjoy the casual, relaxed atmosphere of the EclipseFest23 beer garden and brews from three local craft brewers until late. 
The Camper's Hub: Hang out at this fun, friendly place in the center of all the action, where RV and camping enthusiasts can gather, connect, relax, and learn throughout the festival. 
Presentations: The festival schedule also features a lineup of presentations and activities happening at the Main Presentation Stage.
Vendors and Artisans: A range of artists and vendors will be bringing their wares and giving demonstrations. There will be plenty for you to browse, buy, and check out the fun and interesting gear on offer.
RVers camping in a field in Oregon to watch the 2017 total solar eclipse
What Are The On-site Camping Options?
Choose from one of the spacious campsites for up to 6 people and one vehicle (plus RV/tent). Most RV sites are pull-through spaces. It's dry camping / boondocking, which means no electric, water, or sewer hookups. But there will be portable bathrooms and wash stations in the camping area. You'll be close to all the fun in the private camping area, sponsored by Spot2Nite.
There is room for 1,000 RV sites and 1,000 tent sites, plus the ability to expand with the overflow areas. And don't worry, a honeywagon service will be available for those wanting to pay for tank pump out. Generators are allowed at RV campsites, but not tent sites, due to the total fire ban. However tent campers can bring a CarGenerator for their power needs.
Early birds can roll in on Tuesday, before the festival starts, to score a prime position, and camp for all 5 nights. General campers arrive on Thursday, for 3 nights of camping and festival fun.
How much are the campsites?
There are several options to choose from, depending on your preferred camping style, rig size, and how long you want to stay.
5-Night PRIME Position Campsites from October 10–15
Roll in early to secure a prime spot and camp on-site for all 5 nights (up to six people per site).
RVs 35' and Under $300: 45' x 25' campsite, parking for your RV (up to 35'), plus one vehicle.
RVs Over 35' $350: Gets you a

65' x 25' campsite, parking for one RV (up to 65') plus one vehicle.

Tent-Only Campsite $250: Gets you a

30' x 15' campsite for one or two tents, pl

us one vehicle.
There are a limited number of Prime 5-Night Camping Spots, so book early to snag one! Group reservations are also welcome. 
3-Night General Camping from October 12–15
Just want to arrive for the festival, eclipse watching party and concert? General camping gets you a 3-night stay on-site (up to 6 people).
RVs 35' and Under $250:  Gets you a 45' x 25' campsite, in your RV (up to 35'), plus one vehicle.
RVs Over 35' $300: Gets you a 65' x 25' campsite, parking for one RV (up to 65') plus one vehicle.
Tent-Only Campsite $160: Gets you a 30′ x 15′ campsite for one or two tents, plus one vehicle.
Group reservations are also welcome.
Book early
to avoid missing out!
Need to accommodate people and/or vehicles?
What About Festival And Concert Tickets For EclipseFest23?
You can buy Day Passes for each day of the EclipseFest23 festival, for adults and kids. Saturday features the Eclipse Watch Party in the morning, all of the day's festival activities, plus the Smash Mouth concert. 
The best value is the All-Festival Pass, which gives you general admission to all three days of the festival, including all areas, amenities, and activities; the vendor and artisan area; food and drink vendors; the bar area (21+ only); free parking; eclipse watching party; concert; plus festival re-entry all weekend long.
3-Day All-Festival passes for adults are $120 for October 12th–15th. Kids aged 2 and under are free, with a ticket-holding adult. Kids over the age of 2 will require a ticket, which is $75 for an All-Festival 3-day pass. 
Single day Festival tickets start at just $15 for adults ($5 for kids) for Thursday, and up to $80 for adults on Saturday ($50 for kids) which includes the Eclipse Watching Party, and Smash Mouth concert.
Learn more and book Festival tickets here.
Is there the option to attend the concert only?
Of course, if you're only interested in seeing Smash Mouth on Saturday night, you can buy concert tickets for Lawn Seating ($30) or the Party Zone ($40), plus $10 for parking. 
Food and Drink vendors will also be open Sunday morning for campers and festival-goers to grab breakfast and snacks before hitting the road.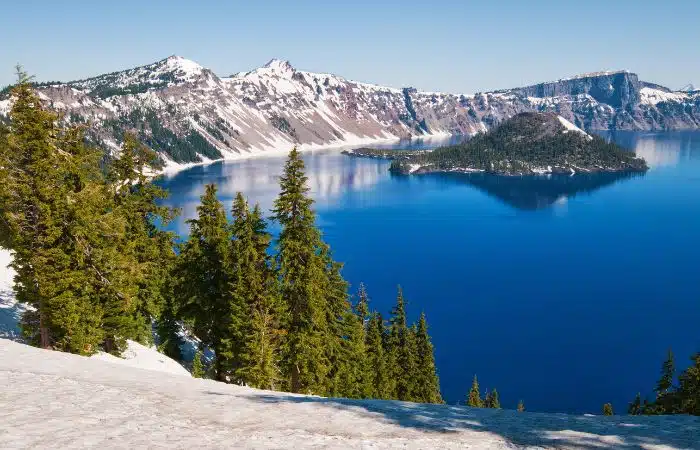 What's So Special About EclipseFest23?
The annular solar eclipse is a once-in-a-generation experience, best shared with family or friends. And EclipseFest23 is shaping up to be one of those events that will be remembered for a very long time.
Being a self-contained camping and festival space, everything is within safe walking distance to all of the food, events and activities. So it's a very family-friendly event that will appeal to all ages.
"We designed EclipseFest23 to have all of the activities and fun in one location." explained Sara Irvine, EclipseFest23 organizer. "From camping to the concert, entertainment, food and beverage vendors, and of course, watching the solar eclipse together. It's all about making sure EclipseFest23 makes the whole experience easy, convenient, and fun for everyone."
What else is there to do in the area?
And while there is going to be plenty to entertain you at EclipseFest23, it's also an opportunity to make the most of your visit to the area and explore all that Klamath County has to offer! Nearby you'll find natural treasures like Crater Lake National Park, Lava Beds National Monument, and Cascade-Siskiyou National Monument. Klamath Basin offers bird-watching opportunities. Mountain bikers can hit the trails on Spence Mountain. Go fishing at Lake of the Woods. Kayak the Wood River System and Upper Klamath Lake Canoe Trail. And of course, you'll find hiking just about everywhere. 
EclipseFest23 is a unique and exciting opportunity to be part of an all-inclusive camping and festival experience, to celebrate this once-in-a-generation event.
Learn More And Buy Tickets for EclipseFest23
Based on the overwhelming popularity of the 2017 solar eclipse, organizers are expecting EclipseFest23 to also sell out well in advance. It is anticipated that prices will increase closer to the event, so we recommend you get your tickets as soon as possible.
"One of our absolute highlights from all of our RV travels was attending the total solar eclipse event in Madras Oregon" says Julie Bennett of RVLove. "We were boondocking on a field with over 5,000 campers, with our group. Being able to watch the solar eclipse reach totality was just magical. Now we've got the eclipse bug, so we are super excited to experience our first annular solar eclipse this October at EclipseFest23!"
"Being able to share that experience in person with our RV community, and be part of all of the action in one place makes it even better" added Marc. "We have lots of cool activities planned… we can't wait!"
>>> Watch video highlights from our 2017 total solar eclipse experience <<<
To learn more, book your campsite, buy your festival tickets, and EclipseFest23 merch, visit the official event website: http://www.eclipsefest23.com
We'll be there, and hope to see you too!
GOT COMMENTS OR QUESTIONS?
We would love to hear from you. Drop us a note in the comments section below.