This post may contain affiliate links.
We left you with a cliffhanger in our last video, where we shared the news that we had decided to sell our MINI. You may have already seen our latest YouTube video. Where we announced that we had bought a Jeep to tow behind our RV! 
In this blog post, we go into a lot more detail about our new (to us) Jeep. Also, the story behind our decision-making process and how we managed to logistically make it all happen, when we're constantly on the move! It took a bit of juggling but everything worked out perfectly and we couldn't be happier. So, let's jump in and give you a bit more of the backstory!
I (Marc) absolutely love cars. I've owned about 25 so far in my lifetime. And I'm always paying a lot of attention to the RVs and tow vehicles that others travel with. Jeeps in general, as a brand, have been popular tow vehicles among RVers for a long time. Mostly Jeep Wranglers in particular. But over the past few years I started noticing more and more Jeep Cherokees being towed by other motorhomes. 
Fortunately, Julie's also a car lover. We both have an appreciation for vehicles that are sporty, sexy and fun. Plus our heads are always turned by copper-orange color cars, regardless of make or model. Orange is our color, as you might have noticed with our MINI. We both knew our next car would likely also be orange – the color represents the spirit of our adventurous life!
The first time I remember seeing a copper orange Jeep Cherokee was early 2017. Ever since then, that car found a permanent place on our shortlist for that day when we eventually decided we were ready to change our tow vehicle and towing setup. 
Naturally, we (or should I say Julie) made a vision board – cutting pictures and words out of a Jeep brochure. Then posted it up on a wall in our RV and keep it top of mind. It's what we do, and if you've been following us for a while and read one of our earlier posts, you would know that we also created a Pinterest vision board that first inspired our RV lifestyle and made another one that specified our exact choice of motorhome too.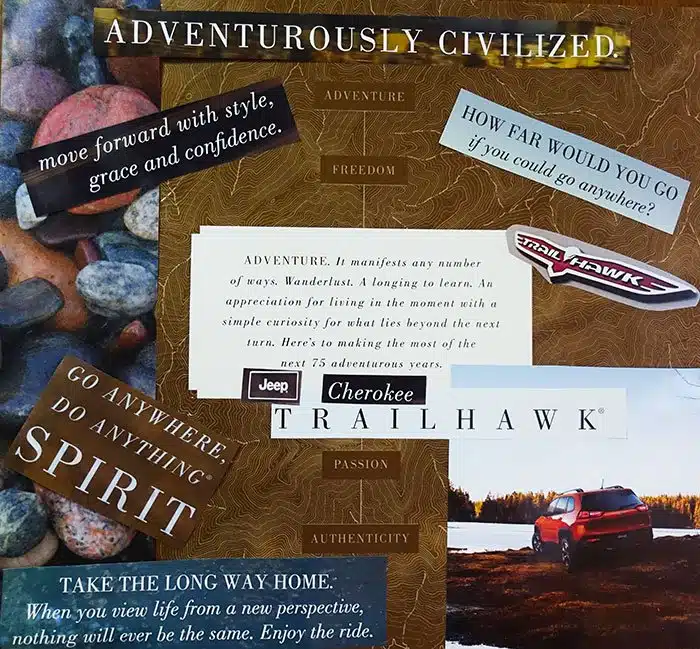 We traveled the country for over 3.5 years with our MINI Cooper S Convertible "Juice" – towing it on a tow dolly – and were happy with our choice during that time. It met our needs, which we shared in detail in this blog post. 
But after reaching our "50 states visited" milestone in September of 2017, we started thinking about what we might like to change in our RV life and setup, as we prepared to enter a new chapter in our travels in the year(s) ahead. We love this life and we plan to continue RVing for the long term, so we felt ready to invest in a vehicle that would suit our needs for at least the next five years.
Shopping For Our New TOAD (aka Dingy)
We actually began shopping for Jeep Cherokee Trailhawks in early 2017 and took our time with it. It would be a big decision, a sizable investment, plus Marc had just quit his job. Being our first year of building our business, we didn't want to overcommit ourselves financially or place ourselves under undue pressure. Plus, we tend to be the kind of people who really take our time researching and investigating every possibility and being clear and certain about our choices. That's why, when we do finally make large purchases, we are always very happy with our decision, as we've done our due diligence.
With Julie and I being such car lovers, it was important for both of us to love our next car as well, especially as it would be our only vehicle. It needed to have good performance, be a good fit for us ergonomically and have the right personality for us to really enjoy driving it. 
We had made a great choice (for us) with our first tow vehicle – the MINI – so we went back and reviewed our search criteria to ensure we also made the right choice again this time around, considering the next phase of our traveling life.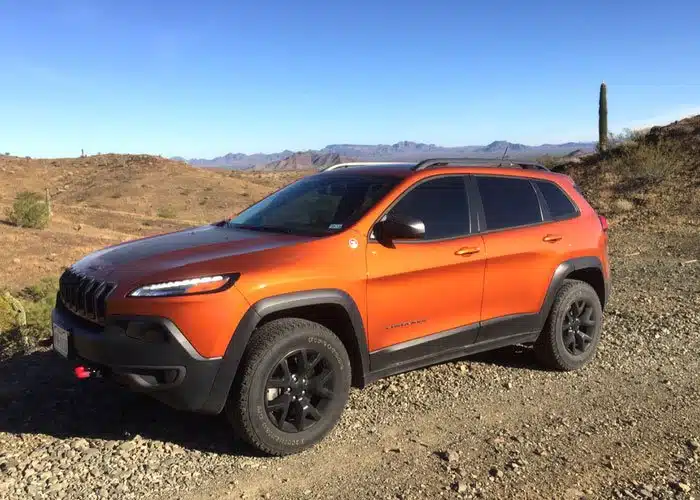 One of our first considerations was how we planned to transport the car. We were ready to make (and invest in) the transition from tow dolly to a flat towing setup with all four wheels on the ground. Seeing a number of other Jeep Cherokees being towed 4-down was a good first sign. 
But we also knew it was important to research deeper, as often only specific models or options on vehicles allow them to be towed flat. It may surprise many of you to learn that not all Jeeps can be towed four down! Never assume, do your homework!
The Guide to Dinghy Towing is an excellent resource to get you started with your research, but this alone may not be the end of your homework. For example, even though the Jeep Cherokee is towable, it needs to be optioned very specifically, and it was only after we dug deeper in our research that we found that we would need an aftermarket wiring harness installed, and we would need to carefully follow a series of steps to get the vehicle ready for towing.
We will go into more detail about that in a future post, but wanted to briefly mention it here, as we've already had several people comment on our YouTube video and email us to advise what needs to be done (thank you!). We knew about this issue and the required fix before buying the vehicle and we booked in to have the aftermarket modification to safely tow our Jeep done at a dealer right after our purchase. So yes, we're all properly and safely set up. And we will be sharing more about that and our 4-down towing setup in an upcoming post and video later this month.
We started thinking about what new experiences we would like to have with our next tow vehicle (TOAD). Things like more ground clearance and four wheel drive to allow for more off-pavement exploration. But we also wanted to be sure the car would be very comfortable on long on-road drives as we still put in long days exploring different areas. We also wanted more storage capacity to carry gear and more comfortable space for additional passengers..
With a very specific list of criteria we wanted in our Jeep Cherokee, and by the time we factored in our desired year, model, options and color, the list of suitable vehicles was pretty short, especially as we were constantly on the move around the country. We didn't mind driving or even flying a little ways for 'the right car'. After all, we flew from Denver to Las Vegas when we found 'the one' in our MINI. But as we were traveling through the Pacific Northwest in the summer of 2017, we didn't want to have to fly to Florida or New York to buy a car either.
Top Considerations

Here's the list of our top features/considerations and why they were important to us:
Trailhawk Model – mostly because all Jeep Cherokee Trailhawk models have the correct transmission that enable the vehicle to be towed four down. But also because we like the styling and many other options that come standard on the Trailhawk, including, of course, off-road capability. The Trailhawk is officially "trail rated".
Mango Tango copper orange – Every time we see copper orange cars, we comment on how much we love them. So having this color was a high priority for us. The Mango Tango was only available on model years 2014, 2015 and 2016, which narrowed down our search criteria. We preferred a 2015 model year, being the second model year and because we'd heard the 2014 had a few transmission issues. And of course, buying used would save us some money compared to buying new!
Sunroof – We were giving up a convertible and we spend a lot of time in great weather, so having a sunroof was high value to us, and Julie likes to be able to stick her head out of the top of the vehicle with her camera/video sometimes. The large, panoramic sunroof on our Jeep is truly amazing!
Power Liftgate – Being a taller vehicle and with Julie being so petite, she cannot reach the rear hatch when it's open, so having the ability to simply push a button on the Jeep or the key fob to open and close the rear gate was a must have.
Larger Performance Engine – The Jeep Cherokee is available with two power plants 2.4L and 3.2L. We test drove both and being driving enthusiasts, as soon as we both drove the Jeep with the larger 3.2L engine, there was no going back. There is an enormous difference in performance compared to the minor change in fuel economy that was worth it to us.
Towing Package – Although we knew we could install this option aftermarket, we preferred buying a Jeep with this option from the factory. We wanted this so we could install a bike rack and also be able to tow a lightweight trailer. You know, just in case we decided to downsize from our 36′ Class A motorhome to a tiny Casita or a T@B Trailer! LOL 😉
Heated Seats –  Julie and I absolutely loved having this feature on our previous car so this was high value for us. This particular Jeep also has the added bonus of a heated steering wheel, which is very nice when driving in cold weather.
Memory Seats – Because we both drive the vehicle and are such different sizes (I'm a foot taller than Julie), being able to push one button and have the seat, mirrors and even radio station preferences automatically adjust to suit that driver was a very nice option, instead of having to manually change the seat and mirror positioning each time we switched drivers.
GPS Navigation System – while this was not on our must-have list, we considered this option a nice-to-have, and ours just happened to be optioned with it. If it did not, we would still have bought the vehicle as this wasn't a dealbreaker. Because we are constantly driving in new areas, we almost always rely on GPS navigation, using Google Maps on our iPhones when out and about driving in our tow vehicle. The added convenience and benefits of an in-built GPS navigation is definitely a nice feature that we appreciate even more now that we actually have it. It doesn't cause our phone batteries to run down so quickly, it works even when out of cell coverage areas, plus it's safer, more reliable and easier to follow while driving.
Low Miles – we planned to keep the car for a long time so the lower the mileage, the better!
As you might expect, when we started filtering our online searches based on our above criteria it narrowed the available selection quite a bit, even when searching nationwide. We were willing to travel out of state to purchase our new vehicle, but knowing we would be traveling around the country we figured something would eventually show up within a few hundred miles – when we were really ready to move forward.
One Showed Up At Just The Right Time
We had been casually narrowing down and searching for this particular Jeep since March 2017 and started getting more serious about it in August. When we found ourselves parked in Portland, Oregon for 2 weeks in October, so we could order parts for the RV and have a couple of minor repairs done, we decided it was the ideal time to finally pull the trigger on the Jeep, for a couple of reasons.
1. Portland was a good place to sell our MINI, as we noticed MINIs tend to be more popular in coastal cities like San Francisco, Portland and even Seattle, which have a higher than average number of MINI owners/lovers than in Colorado (where we were heading) or Texas (where they love big trucks!). With winter approaching, we figured it made more sense to sell the MINI before the weather got too cold and less convertible-friendly.
2. Portland is also less than 20 miles from the Roadmaster corporate headquarters and manufacturing facility which we had toured a couple of months earlier – and impressed us greatly. With Roadmaster being our top choice of equipment for setting up a vehicle to tow four down and being so conveniently located, we figured if we were able to find and buy our chosen Jeep during our stay in Portland, we would be able to have it installed by the manufacturer. This wasn't essential of course. Plenty of dealers install Roadmaster towing setups. But we figured it just made sense to have it all done at once in the one place, that we already knew and trusted. We'll be sharing more about our Roadmaster towing setup and how we set up our Jeep for towing in an upcoming video and blog post, so keep an eye out for those.
So we sat down and wrote out our very specific criteria for the Jeep on a whiteboard and decided that if a vehicle that perfectly fit our needs happened to show up while in the area, we would just go for it! There weren't any to be found online at the time we wrote up our "Wish List". But sure enough, just one hour later, "our Jeep" showed up at a dealer in Coeur d'Alene, less than 400 miles away. That might seem a long way to some folks, but we full-time RVers have a different idea of how far we're willing to drive when it comes to seeing, doing or buying something that we really want!
The dealership, Dave Smith's Frontier Sales, was a large and reputable dealer that does a lot of online sales. Their website had excellent photos and detailed information about the vehicle and we had a great experience dealing with their sales guy Jimmy Costello by phone, text and email. Jimmy is a genuine, honest and helpful guy who personally described the condition of the vehicle to us so that we felt comfortable enough to buy the car over the phone – sight unseen! It only had about 21K miles on it and was still under factory warranty, so it was almost like new! We negotiated a price and made plans to drive out to pick it up a few days later!
Of course, the logistics of buying and selling a car when you're not trading in at a dealer can be a little tricky – especially when you are buying a car that's located 370 miles away! We didn't want to drive the MINI there and back so we explored our options and found a one-way car rental for just $43 – picking up from Portland Airport and returning it to Spokane Airport the next day. Deal! Upon arrival at the car rental counter, they upgraded the Mustang rental we had booked to a BMW convertible instead! Score! It was a shame it rained the whole way and we couldn't put the top down, but we still had a great drive to Coeur D'Alene.
We arrived at the dealership, met Jimmy in person, did all the paperwork and took delivery of our Jeep. And yes, the car really was as awesome in person as we had hoped! Phew! We dropped the rental car off at Spokane airport and went off to celebrate with dinner with our RVing friends Gary and Stacey of PauHana Travels, who offered up the guestroom in their lovely home for the night before jumping into our new Jeep and driving 5.5 hours back to Portland the next day. We'll be honest, we enjoyed the drive back in our Jeep MUCH more than our drive in the BMW! Perhaps because we knew it was OURS!
At the time of writing this blog post, we've had the Jeep for about 3 months and are absolutely loving it! It has everything we wanted and more. Yes, it is a bit of an adjustment having a car payment again after 4 years without one, but we love our RV lifestyle and plan to be doing it for many years to come. That is what gave us a lot more confidence investing in a higher quality car that is such a good fit for our lifestyle, and knowing we will have the car for a long time also makes it more worthwhile to invest in the 4-down towing equipment.
We also decided to buy an extended service contract for the Jeep, to cover any non-maintenance related repairs. After all, there's a lot more advanced and expensive technology and components in the Jeep than we had in our MINI. So we wanted to help reduce the pain and expense of any significant repairs it may need in the future. We bought the extended warranty at time of purchase through the dealer, and while it seems to be an excellent policy, we do wish we'd had the foresight to get a quote in advance from Wholesale Warranties. At the time we didn't realize they also offer car warranties (like they do for RVs) and when we asked them for a quote after the fact, they did come in quite a lot cheaper than the dealer policy – lesson learned. Still, we're happy to have the extra peace of mind the extended service contract offers, we're covered for as long as we own the vehicle and our deductible is only $100 per repair claim.
Lucky for us, we were able to squeeze our Jeep into the Roadmaster factory at relatively short notice (the following week) for the installation of the required hardware for towing four down. More on that in an upcoming blog post/video.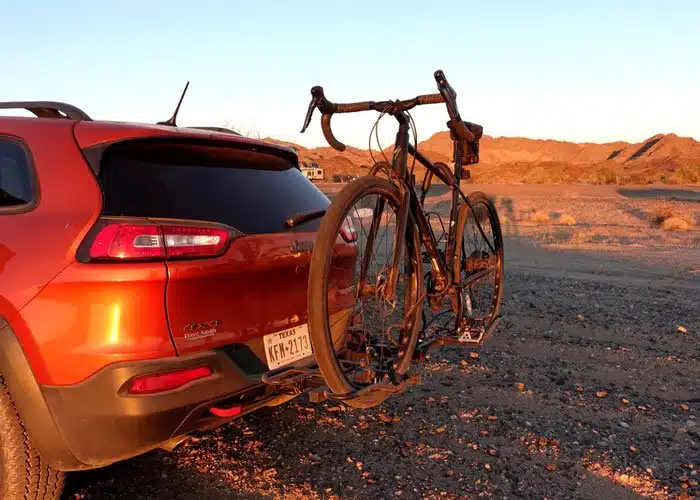 Selling the MINI and Tow Dolly
We had also listed our MINI for sale on Craig's List in Portland, assuming a local would buy it, but believe it or not, within 48 hours we sold it over the phone to a 20 year old guy who flew out all the way from Arkansas (2,000 miles away) to buy our MINI because it fit HIS exacting criteria – color, options and all – our MINI Juice was exactly what Caleb had been searching for.
We sold it for three times more than the paltry trade-in price we'd been offered by another dealer(not the one we bought from), while Caleb still got a great car and an awesome deal. It was a lot of fun selling our MINI to a fellow MINIac who really appreciated the car as much as we did. And yes, it was sad to say goodbye… we both shed a few tears when Caleb drove away in our MINI… we shared so many amazing life experiences and adventures with that car!
While in Portland, we also sold the tow dolly (within an hour of listing!) – for just $50 less than we paid for it in 2014 – along with a few other items we hadn't been using enough to justify keeping anymore, including our tandem bike and BBQ! We do plan to get another tandem bike (perhaps a folding one) and a smaller, lighter BBQ down the track, but for now, selling some heavier items we hadn't been using helped to offset the heavier weight of our new Jeep.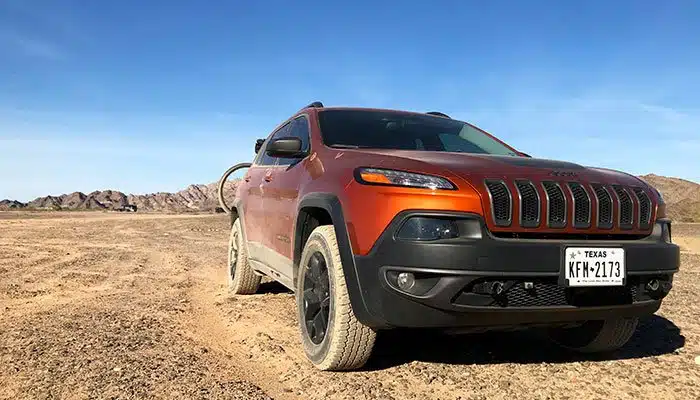 Stay Tuned for More Adventures
It's awesome that now we can take our car off road knowing we're unlikely to break it! (Sorry MINI – we know we took you to a few places we probably shouldn't have). We haven't taken the Jeep out on too many trails yet but did get it good and dirty while in Quartzsite, AZ and on a drive to the famous Desert Bar near Parker. We also had the chance to drive it on snow in Colorado and it performed very well in all of those environments. We love that we can now explore many more roads we haven't traveled yet, regardless of condition, while being able to enjoy the smooth ride, creature comforts and additional capacities that the Jeep Cherokee Trailhawk offers.
So if you can't tell, we're super excited to share more adventures with you and our Jeep for many years to come! We hope you have as much watching as we have driving it!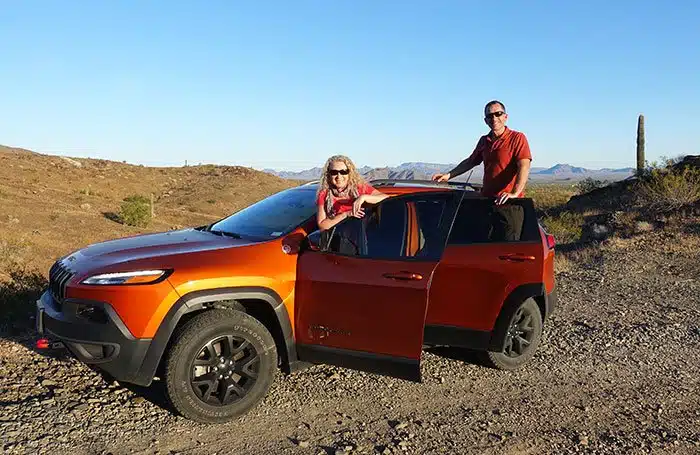 PS. What Should We Name Our Jeep?
Before we go, we haven't named our Jeep yet! We've been getting some great suggestions in the comments on our YouTube video and social media posts, but we'd love your ideas on what we should call our Mango Tango Jeep Cherokee Trailhawk in the comments section below! We'll be picking a name and announcing it sometime in the next couple of weeks.
Please share them in the comments below! We'd love to hear from you!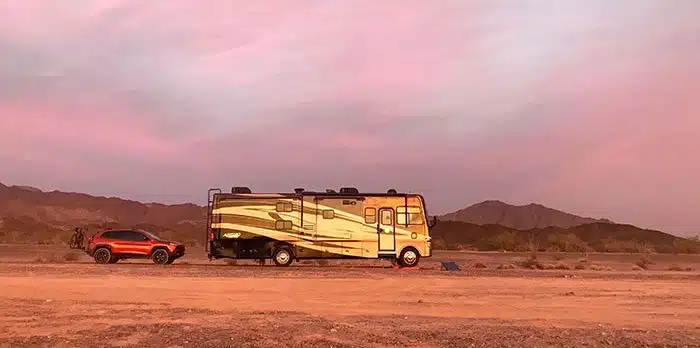 GOT COMMENTS OR QUESTIONS?
We would love to hear from you. Drop us a note in the comments section below.