This post may contain affiliate links.
Traveling around North America in motorhomes for almost a decade has been an amazing way to travel. But in the world of RVing, unexpected opportunities often call us to embrace change and venture into new territories. So when we recently stumbled upon a big, burly Ford F250 truck, it was the kind of rare find that called for a change in travel plans. Practicality collided with our desire for new adventures, and we seized the chance to expand our horizons. 
So, we welcomed this "new to us" truck into our journey, which will inevitably alter our travel style in unexpected ways. With this powerhouse addition to our arsenal, we're gearing up for changes and even more learning. Curious about what we got and what we plan to do with it? Buckle your seatbelts and get ready for the story of how Marc finally convinced Julie to switch to a truck and trailer for our RV travels (even though we weren't exactly planning it).
Why the change?
If there's one common thread among many RVers, it's a desire to mix things up, as our travel styles and needs evolve. And along with it, our RV adventures, learnings and experience expand. The journey is not always linear, and not always planned. But life happens, and along with it, the realization that some things need to change.
Let's take a look at the what's, where's, whys, and how's of the evolution of our RV travel style. Here are the RVs and vehicles we've owned (and rented or borrowed) over the past decade, so you can follow the journey of how we got here. Before we jump into the details of our 'new to us' truck.
The RVs and vehicles we've owned over the past 9 years
A Brief History of RVs, Cars, Towing and a Truck
A collage of motorhomes we've borrowed (left) and rented (right) over the years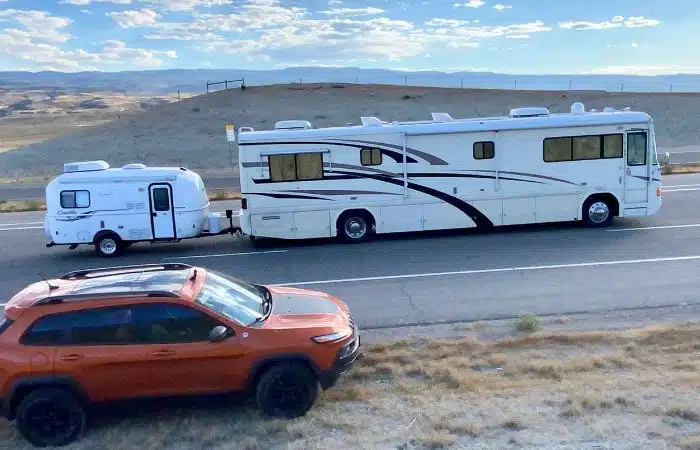 Switching from full time to part time RV travel
But then 2020 – and the pandemic – changed everything. In a surprise twist (to us and everyone else) we bought a home base in Colorado (again) to be closer to Marc's family should his mom need us. Heck, it's even in print in our first book that we would RV overseas before buying a stick and brick home again! But then, we didn't foresee the pandemic. Nor did we EVER imagine we'd make a house offer within 48 hours of rolling into a town we'd never been to before! We usually spend months researching and planning big decisions, but sometimes if it just feels right, we go for it!
So we downsized our 40′ off-grid glamping bus CC to a 17′ 2019 Casita Freedom Deluxe camper. We towed the Casita behind the same Jeep we hauled behind our Class A motorhomes. But although cute and good quality, the Casita was just way too small for longer trips, especially after pup Sunny joined our family. After just 16 months, we sold the Casita. 
Why didn't we buy a truck early in our travels?
With our long history of traveling in mostly motorhomes, you likely have a few burning questions, such as… Why did we (finally) end up buying a truck!? Did we ever consider getting a truck when we first started RVing? What changed? And does that means this is the end of our motorhome travels? 
Let me start by saying that I have always loved trucks. My first car at age 16 was a 1984 Toyota 2-wheel drive extra cab. Over the years I've owned small trucks to full-size trucks, including a Nissan Titan and Dodge Ram 2500 V10. But both of us love to drive spirited, sporty cars. In fact, when we first started planning for our full-time RV life, we had two sports cars in the garage – a Mazda Miata and a Subaru WRX. But no truck. This was a big deciding factor in us choosing to hit the road in a Class A motorhome instead of a truck and towable. 
As car lovers, we were both excited by the idea of driving scenic coastal and mountain roads (or through a tree) in a nimble, sporty car while out exploring. This was a huge consideration when choosing a vehicle to tow. That was simply more appealing to us than exploring fun roads in a big ole truck. Plus a small tow vehicle would help us save on fuel, and offset the higher fuel costs of our Class A in our full-time RV life.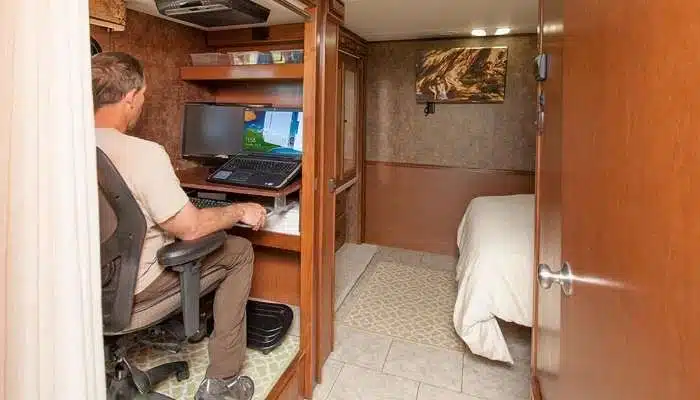 Marc worked at his full time remote job in the bunkhouse office of our first RV
More reasons for not getting a truck sooner
Plus, with my full-time remote job keeping me at my desk most of the time, Julie did most the daily running around in the car. Since she is under 5′ tall, Julie would find it tougher and less fun to drive a big truck. So we sold the Miata and Subaru then bought a 2006 Mini Cooper S Convertible to tow behind our motorhome. We had a blast driving our hot orange Mini all around the country! We did get some flak for our choice of vehicle AND towing with a dolly. But our reasons were right for us at that time, and we have no regrets about either of those decisions.
After I quit my job to work with Julie full-time on RVLove, I ended up doing nearly all the driving. So when the "weight issues" of our first RV led to us wanting to switch to something with bigger capacities, I was seriously interested in a truck and trailer. I also wanted to experience a different travel style. Plus, being surrounded by so many trucks in campgrounds during our RV life, really made me miss having one. Our friends Lisa and Dan Brown of Always on Liberty even said "we could see and feel Marc's truck envy every time you came to visit us!" It was true. I always drooled over their awesome RAM 3500 Crew Cab Dually.
Motorhome travel is sweet, and pretty hard to beat
But I'll admit, I really love driving Class A motorhomes too. I got my first taste of that lifestyle over a decade ago with my former job, when I got to travel around for 10 days in a big custom-wrapped Prevost bus conversion. We loved both of our Class A motorhomes, and it was much easier and more comfortable to put in bigger miles when driving our diesel pusher motorhome CC. The quality and livability of the larger space worked well for our full-time RV life.
Julie loves motorhomes, sitting up front looking out that big windshield. As well as the convenience of being able to get up and access anything in the coach when driving down the road. However, one downside of motorhome travel, is that it can be more expensive, especially diesels. But big trucks can be costly to repair and maintain too. You can see for yourself what we spent on our motorhomes when full-timing, in our post on the Real Cost of RV Ownership.
Having never owned or really experienced a truck, Julie has been adamant for years that she prefers motorhome travel. But recently, she admitted that she has even surprised herself by how much she likes our F250. With that, she has finally come around to the idea of a larger towable RV, now that we have a more capable truck!
It's changed the game for our next stage of RV life, and the kind of RV we can tow.
So what has changed in our travel style and setup?
Towing limitations of our Jeep Cherokee Trailhawk
When we switched from full-time RVing to part-time RVing in 2020, we towed our Casita with the Jeep. Fortunately, our Jeep Cherokee Trailhawk is specially equipped to tow, raising the standard towing capacity from 2,500 up to 4,500 pounds. We love our Jeep! However, although cute and fun for short trips, our Casita was way too small for us to be comfortable on longer adventures, so we didn't use it much. And since our Jeep can only tow 4,500 pounds we were limited to towing small trailers.
That's why we ended up buying the smaller 25′ Class C motorhome for multiple-month trips. We got it for a good deal from our friend, knowing we needed to invest time, work and money to give it some "RV love" with new tires, a Mercedes-Benz service (gulp). Plus some other long overdue TLC in the way of RV maintenance, like applying new sealant and servicing the generator. We've enjoyed this RV, but we're missing some of the creature comforts of our bigger motorhome on longer trips.
Changing seasons of life and travel evolve our RV needs
Now that we've been part-time RVers for three years, we've found we love staying in our hometown for the summer. But we like to head south as winter snowbirds and do a few shorter trips throughout the year. Our RV has been spending more time sitting than traveling. So it just makes more sense for us to consider a towable RV and a truck. Especially as motorhomes are designed to move often. It's not as bad for towable RVs to be stationary for longer periods.
Another handy excuse… 
There's one more reason that really inspired our truck purchase. Since doing a few remodeling and building jobs at home, word has gotten around town. And I've been asked to do some local construction and other projects. This has unexpectedly and organically evolved into a side business, which I REALLY enjoy. It gets me off the computer and working with my hands, just like I did with our RV Makeover, which has been satisfying. I knew a truck would come in handy for my 'Handyman Marc' jobs. 
OK, OK, I admit it. I've just been looking for every possible excuse to get another truck! I figured Julie would come around eventually 😉
Finding the right truck: my criteria
Have you paid any attention to truck prices over the last few years? You might have noticed that during the pandemic, heavy-duty trucks got REALLY expensive, and prices have been slow in coming back down. I didn't want to over-invest, and we rarely buy new vehicles (cars, trucks, RVs) anyway. So I mostly kept an eye out for pre-owned trucks. But it is really tough to find a nice, reliable, and well-cared-for truck (or RV or car) with low mileage for its age, that hasn't been abused. 
We aren't full-time RVers right now (although we won't rule that out in the future). So we don't need a big one-ton dually diesel truck for hauling around a huge full-timer-focused fifth-wheel trailer. I wanted something with high enough capacities to tow a very comfortable towable trailer for extended periods of time. So I was mostly focusing my search on gas-powered ¾ ton trucks. Trucks like Ford F250, Ram 2500, and Chevy/GMC 2500. 
Back to basics…
And rather than a newer, loaded truck, what I really wanted was a more basic truck. One without the latest technologies… as just like with RVs "it's more stuff to break". Yeah, maybe I'm becoming an old dude ahead of my time, but give me analog over digital any day. I prefer dials and knobs over screens, and don't see the point in paying extra for features I don't want or need. I just want a reliable truck that will do the job.
Being patient (and unbeknownst to Julie) I was keeping more than a casual eye out for trucks with 'For Sale' signs, checking Craigslist, and my favorite auction website, Doug DeMuro's www.carsandbids.com, to keep a pulse on what was available. But most trucks were either too beat up, too high mileage, or too expensive.
'The one' can often show up when you least expect it
My brother knew what I was looking for in a pre-owned basic yet capable truck, and he was too. But after looking at hundreds, he'd given up on his search and bought a new one. One month later, a 'For Sale' sign showed up in the window of this truck just a few streets away from his home. He texted me a photo, and I jumped on it. 
What is our Truck? And the story behind it?
It is a 2009 Ford F250 XL Supercab 4×4 (gas) with a long bed, and in amazing shape for its age. When I called the seller, Derek, he explained he had just inherited it from his father. His dad lived on a small farm in Wyoming and bought a heavy-duty truck because he wanted it to outlast him, and it did. The truck was garage kept, always serviced at the local dealership. And it had a gentle life considering it was a farm work truck, used mostly for moving hay. He rarely towed anything and the bed has very few scratches. And since it was mostly used locally, the odometer had less than 100K miles, an average of just 7,000 miles a year.
My brother took the truck for a test drive, and checked it over with a fine-tooth comb. He confirmed it was as nice as it looked in the photos. The seller and I agreed on a price of $14,000 which was a great deal for the age, mileage, and condition! After a good ole gentleman's handshake between Derek and my brother, Julie and I jumped in the Jeep that evening and drove 5 hours so we meet Derek at the bank first thing the next morning to finalize the purchase. 
Everything went smoothly, and the truck is exactly what I had hoped for. It's a lot of truck for a very modest price and drives great. We hooked up our Jeep using our Roadmaster tow bar and towed it back home with the truck and I love it! You could say I am a very happy guy to have a truck again! 
Now, what can we tow with it?
Specs: What can we tow with our Ford F250 truck?
As mentioned earlier, we wanted a truck to expand our options for towable RVs. The standard 2009 Ford F250 is rated for a Gross Combined Weight Rating (GCWR) of 15,000 pounds. Our truck has a 4.10 axle ratio and a 6.8L V10 engine with automatic transmission. Plus, it has the optional 9,600 GVWR rating and the towing package. This means our truck is rated for a much higher 21,000 GCWR. 
The empty truck weighs about 6,800 pounds. So it has a cargo capacity of nearly 2,800 pounds. Theoretically, it can carry more weight in the truck than a standard Jeep Cherokee can tow. Our F250 has a 12,500 lb tow hitch. So as long as we are not carrying a lot of heavy cargo and we use the correct hitch type, we can tow a decent size travel trailer or fifth wheel. Without a weight-distributing hitch, our maximum trailer weight is 6,000 pounds.
Regardless of hitch type, we plan to limit ourselves to a 10,000-pound trailer. We don't intend to rent or buy a really big trailer. Otherwise, I would have focused my search on big dually trucks.
What RV do we plan to tow with this truck?
Because we weren't in a hurry, nor expecting to find "the right truck for us" so soon, we haven't yet decided on a trailer. We're still exploring our options – travel trailer, fifth wheel, brands, sizes, floor plan and so on – for what kind of trailer we want to tow. I am initially leaning toward a tow-behind travel trailer, rather than a fifth wheel. Mainly as I prefer to avoid installing a fifth-wheel hitch in the bed, so that I can keep the bed open for my construction projects and other cargo options. But I have to admit I am really liking some of the shorter fifth wheels, and I do love how much better fifth wheels are for towing. Not to mention how much more "home" you get for the same length of a similar travel trailer. 
Of course, we could also get a truck camper, but feel right now that would be too small for our needs and preferences for extended winter travels. That said, we could totally see ourselves heading to Alaska with a truck camper someday!
There are so many options out there for trailers under 10,000 pounds. Of course, we're going to want something that's good quality, and works well for our needs. We'll probably rent a couple of trailers first to get a feel for them, before pulling the trigger on a purchase. Especially since our summer and fall season trips tend to be shorter than our winter season trips. 
This October, we're heading to the EclipseFest23 solar eclipse event in Oregon, and need to figure out if we'll be there with a rental RV, or buying one within the next 8 weeks! So watch this space. We want to hear from you!
Related:
The history of our RVs and vehicles…. what will we hit the road with next?
Summary of Our Reasons for Making the Switch from Motorhome to Truck and Trailer
OK, we've unpacked a lot of history and information here in this post. So let's wrap up with a summary. We don't want you to think we're done with motorhome travel forever! We could absolutely see ourselves owning or traveling in a motorhome again. Especially if/when we start RVing full-time again in North America, or even just doing some international RV travels. But here's a quick summary of our reasons for making the switch from motorized RV to a truck and towable RV, after 9 years of motorhome travels:
Now that we're part time, seasonal RVers our RV is not being used as often
We don't want to be over-invested in an RV/setup that ultimately depreciates
After experiencing almost every type of motorhome (except for a Super C) we're ready for a change
We love expanding our experiences and learning about all kinds of RVs so we can share with others
A truck offers increased freedom and flexibility in the types of RVs we can rent or buy – travel trailer, fifth wheel, truck camper
Without being financially over invested in a truck and part time trailer, it keeps our other travel options and budget open, say for international travels
Since I have started doing more construction projects on the side, it's very handy and practical to have a truck to haul supplies and equipment around
I have always loved trucks and wanted another one, so when this great deal showed up, it was the perfect excuse and I couldn't say no!
Embracing new roads and experiences
As the road stretches out before us, we are reminded that every twist and turn in RV life leads to new adventures. Our decision to bring this Ford F250 truck into our RV travel equation was unexpected, but it's already revealing the immense potential for fresh encounters and unexplored territories. We can't wait to see how this truck enhances our travel experiences. Here's to embarking on this exciting new phase of our journey, the road less traveled, and new memories waiting to be made! 
What RV do you travel with?

Now we want to know… what kind of RV you travel with? Do you drive a motorhome or tow a trailer? If you drive a motorhome, do you tow an extra vehicle? For those of you who tow trailers, what kind of RV do you have, and what vehicle do you tow it with? Share with us and others what you chose, and what you like about it. And if you have any questions or comments about our 'new to us' truck, or suggestions for which towable RVs we should be considering, we're all ears!
We'd love to hear from you, so please leave a comment below! Until next time, safe and happy travels!
GOT COMMENTS OR QUESTIONS?
We would love to hear from you. Drop us a note in the comments section below.