This post may contain affiliate links.
Curry Hammock is a relatively new state park in that the land only became state park in 1991. Visiting beautiful places like the Florida Keys and parking right by the beach is one of the great things about RV travel. We have stayed at many RV parks in the Florida Keys.  But we were excited to score a reservation at one of the popular – and elusive – Florida state parks. As they can be notoriously hard to secure, especially in the winter. Read on for our review of Curry Hammock State Park Campground, in Marathon, Florida.
Location of Curry Hammock State Park
Curry Hammock State Park is located in the Florida Keys, about 2 miles northeast of Marathon.  Marathon is one of the most developed Keys, and is about half way between Key West and the mainland USA.  The entrance to the park is at mile marker 56.2 on Hwy 1, also known as the Overseas Highway.
The official address is: 56200 Overseas Hwy, Marathon, FL 33050
The drive through the Florida Keys on Highway 1 is quite scenic. But being the only through road, if there is an accident or other traffic delay, it can slow it down significantly.  As you would imagine, the road is pretty flat, so it is easy for RVs.  There is a turn lane off the highway into the park, and a short drive down a mangrove lined road to the entrance at the ranger station.
Curry Hammock, encompassing 1,000 acres, is the largest uninhabited parcel of land between Key Largo and Big Pine Key.  So it feels like the island is relatively pure to how the Keys used to be. By contrast, nearby Marathon is one of the most developed islands.  This is great because Marathon has all the grocery stores, restaurants and other shops you might need.
Curry Hammock State park is in the middle of the Florida Keys.  Each of the keys have their own attractions and draws.  Some are better for fishing, snorkeling, or nightlife.  
Marathon is just two miles away and has most stores you would need during a your stay, as it is one of the most developed.  Key West and Mainland USA are both about 55 miles away.  Water sports and other tropical island type attractions are abundant in the Keys.  
The keys have some very scenic biking too.  Picture below of Julie with her Blix electric folding bike. Check out our review of the bike on our reviews page.
Amenities at Curry Hammock State Park Campground
Curry Hammock State Park is a very peaceful beach front campground in the Florida Keys.  The main amenity is the location, beach, hiking and biking trails.  Kayak and bike rentals are available.  
There is a public access beach area right next to the campground that attracts many day visitors, and even some tour bus, or school field trips from time to time. The public area has it's own parking, showers, restrooms and picnic areas.
This beach is also a very popular place for windsurfers and kiteboards.  We saw many kiteboarders during our recent visit. Birding and shallow water fishing are also said to be good year round. Unfortunately, pets are not allowed on the beach or in the water, but ok in the campground area.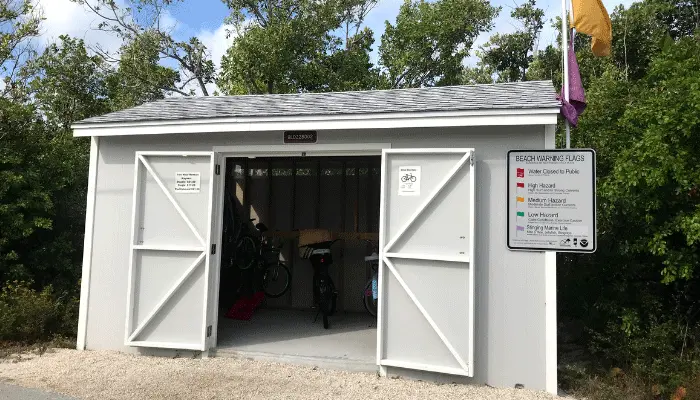 Photo above: Rental shed near park entrance.
Mail / Packages
Being a State Park, we didn't even consider trying to ship packages or mail here. If you need to ship something to yourself while in this area, we would recommend shipping to a USPS, FED Ex, or UPS facility in nearby Marathon.
WIFI / Cable
Curry Hammock State park does not offer wifi or cable. We use our own data with AT&T, Verizon and T-Mobile.  T-Mobile had 2 bars, Verizon had 3 bars, and AT&T had 4 bars of signal. So it was easy to stay connected while here.
RV Sites at Curry Hammock State Park
All roads inside Curry Hammock State Park are paved, including the loop for the campground.  There is a security gate operated by a code to enter the campground area.  With only 28 sites, it is a pretty small RV park area, but the RV sites are quite large.  RV sites are small gravel with patio areas and picnic table.  The campsites are set up in a loop shape, with 10 inside the loop and the other 18 on the outer side of the loop.  The loop is one way traffic and all sites are back in.  
We would definitely consider the campground to be big rig friendly, as it is very easy to navigate.  All sites appeared to be very level and plenty long to hold 45 foot RVs.  Water and 30/50amp power is available at all sites, but no sewer hook up.  There is a dump station at the end of the loop, so you can dump your waste tanks.  A bath house/shower facility is available in the center of the loop, to conserve water use in your RV if you choose to.
All campsites are a very short walk to the beach and ocean, many of the sites are only a stones throw from the water.  The water stays shallow quite a ways out, so it is better for wading here than swimming.  There is a better swimming area very close by along the beach.
The RV sites are quite large and spacious feeling, and the park is very well maintained.  In fact, all Florida parks we have visited or stayed in have been very impressive.
Location in middle of the Florida Keys

Well maintained, Peaceful, natural setting

Much more affordable than private campgrounds in the Florida Keys
Tough to get reservations

Some might prefer having a sewer hookup
Rates at Curry Hammock State Park Campground
The Florida Keys are a highly desirable location, especially January – March.  Private campgrounds in the area regularly charge over $100 per night.  So, if you can score a reservation at one of the beautiful Florida State Parks in the area, you will love the savings.  Rates at Curry Hammock State Park during our visit were $38.50 + tax, which came to $45/day.  
I believe they have maximum stays of two weeks, if you can get a reservation that long.  Florida state parks usually book up immediately when they become available.  Florida residents get first dibs, so others usually have to keep an eye out for cancellations.  Some will try to get lucky and show up at the campground looking for same day or last minute cancellations.  But we prefer to have a reservation on the books before heading into the Florida Keys.
The $45 nightly rate is a great value in our opinion.  Though most of the year we spend our time in Thousand Trails campgrounds. Thanks to our membership, we pay no nightly fee in those RV parks. Learn more about Thousand Trails in these related blog posts.
This is a small RV park in the middle of the Florida Keys.  It is very well maintained, and a wonderful place to visit, if you can get a reservation.  The RV park is right on the ocean and the State park encompasses 1,000 acres.  So the surrounding area feels very pure to how the Florida Keys were long ago.
We really enjoyed our stay at Curry Hammock State Park in March 2019. The location and scenery is pretty hard to beat.  The price is a bargain compared to private campgrounds in the Keys.  Being a tropical island, the weather was beautiful with daytime highs in the 80s and nighttime lows in the 70s.  We definitely look forward to returning to this, and many other Florida parks in the region.
Editorial Disclaimer: Opinions expressed here are the author's alone, not those of any RV park, campground, or RV resort, and have not been reviewed, approved, or otherwise endorsed by any of these entities.
GOT COMMENTS OR QUESTIONS?
We would love to hear from you. Drop us a note in the comments section below.
Looking for more RV campground reviews? Hover over each image to see campground and location and click to read our review. Find ALL of our campground reviews on this page.