Believe it or not, our 'new to us' RV met its end before we could even hitch it to our trusty truck, let alone embark on our first adventure. The disbelief and shock were palpable, but we've always believed that every event, no matter how jarring, comes with a silver lining. In the world of
Read More »
We've been following Marc and Julie for over three years and have learned sooooo much from them! We love their upbeat spirit, sense of adventure, and how they share their knowledge and experiences with everyone. As we get ready to set out on our own full-time RV journeys, we feel so much better prepared because of Marc and Julie and RVLove!​
Great couple that have provided so much information and insight to the RVing life. We have followed them for years and find them both to be a great inspiration! We spent a couple of years learning and planning to become full time RVers and have recently taken the leap! We couldn't have done it without Marc and Julie's guidance.
Marc and Julie are down to earth people that tell it like it is. Lots of good information from friendly folk.
Your book arrived today! It looks fantastic and has all the information I really wanted to know. I can't wait to really dive in!
This couple is so much fun to watch as they continue on their journeys. I love watching their videos, reading their posts and blogs. Thanks for sharing your journey and entertainment with us all, guys!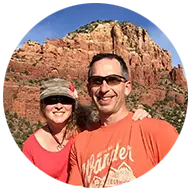 WANT TO LIVE & LOVE THE RV LIFE?
We're full-time RVers who have traveled to all 50 USA states over the past 6 years, sharing our journey and learnings along the way. We want to help YOU hit the road and live your RV dreams too.
Sign up for free email updates with inspiration, in-depth articles and tips to help you get there – better, faster and cheaper. We hope to see you there – and on the road!